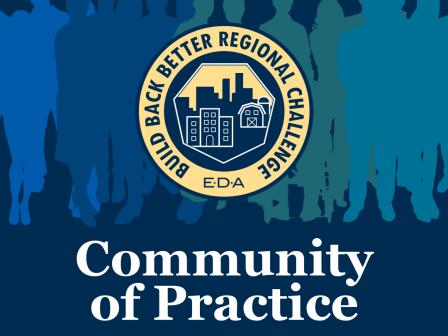 EDA Seeks Proposals to Lead Long-Term Community of Practice for 'Build Back Better Regional Challenge' Finalists
EDA is building a long-term Community of Practice for the 60 "Build Back Better Regional Challenge" (BBBRC) finalists. As part of this effort, EDA is now accepting applications for an organization to lead an action-oriented, four-year Community of Practice that incentivizes regional coalition members to execute their bold regional economic development goals. 
The Community of Practice leader would foster a collaborative space that goes beyond discussions and convenings. Responsive applications will, at the very least, demonstrate capacity for the following activities:
Creating a "marketplace" for member regional coalitions to access a broader funding community (public, private, philanthropic, etc.) to promote the long-term sustainability of their projects.

Focusing member regional coalitions on the necessary process and policy improvements to achieve their transformational goals.
The long-term Community of Practice would support BBBRC finalists -- even the ones that do not ultimately receive Phase 2 grants. (Click here to read finalists' project summaries.) In addition, the Community of Practice could include other regional coalitions.
The deadline to apply to lead the Community of Practice is February 28, 2022. EDA anticipates that funding for this Community of Practice award will range between $2 million and $4 million for a period of performance from July 1, 2022 to December 2026.
This Community of Practice will be a critical opportunity for member regions to collaborate, share best practices, and work to hold each other accountable for outcomes.
Interested applicants should review the American Rescue Plan Statewide Planning, Research, and Networks Notice of Funding Opportunity for information about eligible entities, activities, and evaluation criteria. Applications should be submitted via Grants.gov using the existing Notice of Funding Opportunity. Please email questions to networks@eda.gov.
This will be one of multiple awards in a planned series of grants under the American Rescue Plan designed to fund Communities of Practice.
Earlier this month, EDA announced the launch of the Build Back Better Regional Challenge Community of Practice. This first, short-term BBBRC Community of Practice grant was awarded to the National League of Cities (NLC), with sub awardees America Achieves, the Federation of American Scientists and the Nowak Metro Finance Lab at Drexel University, which was awarded a $3 million EDA grant to help the 60 finalists develop strong Phase 2 applications while creating a sense of community and sharing best practices. NLC's grant period runs January 2022 through September 2022.
The 60 "Build Back Better Regional Challenge" finalists – each a coalition of partnering entities – have proposed projects that will develop or scale industry sectors, develop and train the workforce of today, and build resilient economies. The finalists were announced in December and will now compete for Phase 2 of the Challenge, which will award 20-30 regional coalitions up to $100 million to implement 3-8 projects that support an industry sector. The deadline for Phase 2 is March 15, 2022.