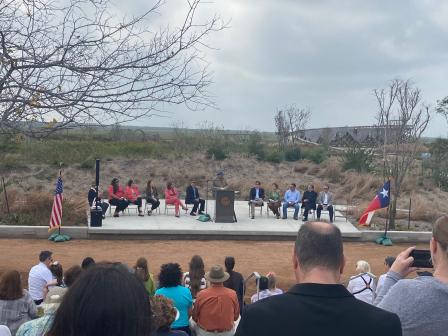 Assistant Secretary Castillo Highlights Trade, Entrepreneurship, and Ecotourism in Visit to South Texas
U.S. Assistant Secretary of Commerce for Economic Development Alejandra Y. Castillo traveled to the Lone Star state for an up-close look at EDA's investments in South Texas.
On Tuesday, February 22, 2022, Castillo helped cut the ribbon on the new South Texas Ecotourism Center, joining U.S. Congressmen Filemon Vela and Vicente Gonzalez and several local leaders in celebrating the grand opening of the center, including Cameron County Commissioner David Garza, who was critical in the development of the project The project itself demonstrates the impact of placed-based locally driven economic development and the importance of EDA's impact in communities across the country.
The South Texas Ecotourism Center in Laguna Vista, Texas is expected to attract tourists to the area and highlights the various ecosystems in the Rio Grande Valley. EDA is proud to support this project through a $700,000 investment to support critical infrastructure for the project.
Following the ribbon cutting, Castillo traveled to nearby Brownsville, Texas, to tour construction of the eBridge: Center for Business and Commercialization. The project is funded by a $900,000 EDA investment. Renovations are underway at the former Casa del Nylon building and when complete, this state-of-the-art center will serve as business-incubator to support small businesses and entrepreneurs from the ground up.
Next, Castillo participated in a roundtable discussion with Congressmen Gonzalez at the University of Texas-Rio Grande Valley. They were joined by regional and local leaders to discuss workforce development, supply chain challenges, and cross-border trade.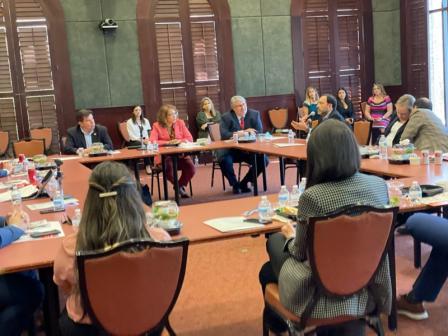 Castillo noted that the South Texas region boasts incredible economic development assets, including a well-trained bilingual workforce, an open and inclusive ecosystem of entrepreneurship, numerous shovel-ready sites primed for development, and a location that connects the United States to Latin America and beyond.
Finally, Castillo finished her stop in South Texas by visiting American aerospace manufacturer SpaceX, of which, an EDA grant provided funding for the Stargate building. The business has created thousand of jobs and brought new opportunities for rural communities to work in STEM fields.