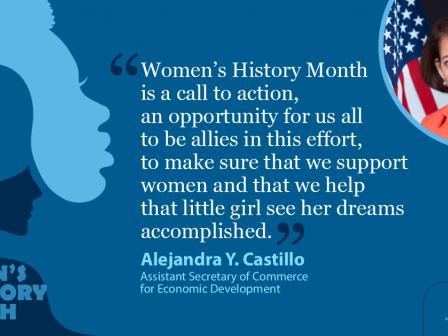 Assistant Secretary Castillo Celebrates Women's History Month with a Call to Action
Women's History Month is an opportunity to celebrate the contributions of women and girls in our economy and society. Assistant Secretary Alejandra Y. Castillo also sees it as a call to action; a time for all of us to be allies on the issues that impact women most.
"We need every voice for women's empowerment, to dream and dream big without any impediments," Castillo said. "This month serves as an opportunity to make sure that we not only support women, but that we also help that little girl see her dreams realized."
Inspiring and empowering women has long been a passion of Castillo's, having served several years as CEO of YWCA USA. In that position, she oversaw a network of more than 200 associations across the country, which served more than 2 million women and girls nationwide. It's something she wants to continue as Assistant Secretary.
"Part of my role is to help ensure that women continue to be active voices and stakeholders in economic development, and to help businesses owned and operated by women take full advantage of those opportunities available through EDA."
According to the U.S. Census Bureau, women-owned businesses are on the rise, and EDA is proud to have played a role in supporting some of them. For example, EDA awarded a $1.5 million grant to Atlanta's Pittsburgh Yards coworking space, which has allowed the women-owned and operated Jayida Che Herbal Tea Spot to serve a variety of organic and loose-leaf teas while promoting community and self-development.
Castillo knows that to build back better, we need to bring everyone along. That's why EDA has made equity its number one investment priority. Not only will equity guide EDA's investment portfolio, but Castillo feels now is the time for EDA to help make sure women, people of color, and others who have historically been left out and left behind, have a seat at the table.
"At this particular moment in time, EDA is playing an important role in helping all Americans recover from the economic impact of the coronavirus pandemic, but we are also laying the foundation for the economy of tomorrow. President Biden's American Rescue Plan has given us the platform through which we are transforming communities and we need to bring everyone to the table to drive strong and equitable economic development outcomes."
Castillo is excited at the opportunities that the American Rescue Plan will provide businesses owned by women that are currently in operation as well as those it will help to create. She says that EDA is creating an ecosystem that will allow these businesses to not only survive but to thrive in the post-pandemic economy. Through the lens of equity, she hopes to use economic development as a blueprint for the communities of tomorrow.
Moreover, President Biden's American Rescue Plan has provided EDA the ability to increase its workforce training portfolio. The pandemic was particularly challenging for women in the workforce. According to the Bureau of Labor Statistics, the economy lost approximately 2.9 million jobs between February 2020 and January 2022, with women accounting for 63 percent of those jobs. EDA's Good Jobs Challenge was developed to help solve that problem. It is allocating $500 million for collaborative skills training systems and programs and encourages efforts to reach historically underserved populations and areas, communities of color, women and other groups facing labor market barriers. Grants can also include wrap-around services like transportation and childcare to make sure Americans have the support they need to successfully complete these programs.
The Good Jobs Challenge builds on the great work of EDA's popular STEM Talent Challenge, which provides grants to create a pipeline of talent in the fields of science, technology, engineering, and mathematics. This January, EDA announced the 2021 STEM Talent Challenge awardees, including Rung for Women, a St. Louis non-profit that will work with employers who use geospatial technology to meet their workforce needs while increasing the number of women, especially women of color, in geospatial careers.
Castillo's two passions, economic development and equity, were instilled in her at an early age.
"I had two amazing grandmothers, who always forged ahead, despite the odds. I admire that commitment, that zeal, and it's something I bring to my role as Assistant Secretary every day."
Through this perspective, she recognizes and appreciates the role that women play in our nation's economy, bringing tangible contributions today while shaping the fabric of our economic future.