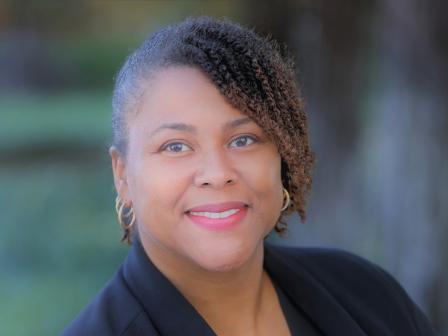 EDA Seattle Regional Office Director Sheba Person-Whitley's Love of Public Service Inspired by Women
For Sheba Person-Whitley, Women's History Month is not just about recognizing notable women. It's also about removing the veil that sometimes masks the role all women have played in building American prosperity.
"Historically, women were discouraged from working or entering into the workforce," says Person-Whitley. "But in times of great need, women have had to step-up and step outside the home to support their families and support the nation's economy."
Person-Whitley's interest in the commercial dimension of the contributions of women is particularly salient given her background in economic development. Recently appointed director of EDA's Seattle Regional Office (SRO), the North Carolina native comes to federal service after a distinguished career in community and economic development in California and the southeastern United States.
"I love public service!" Person-Whitley exclaims, when asked why she decided to accept her current position. "I love EDA because we're looking at things from a regional and national perspective and making strategic investments that will be incredibly impactful in the communities where those investments are made."
Before taking on her current role, Person-Whitley was Executive Director of the Economic Development Board of Sonoma County, California, where she organized efforts to meet the needs of small businesses during the COVID-19 pandemic. She also worked as Senior International Trade Manager for Louisiana Economic Development, leading trade missions on behalf of the Pelican State to Europe, Latin America, and the Middle East; and, as Economic Development Manager for the city of Stockton, California.
It was one of her earliest jobs, at the North Carolina Department of Commerce, however, that inspired her to a career in economic development. And, as Person-Whitley recalls, it was two women who were the catalysts for that inspiration: Sharon Decker, formerly North Carolina Secretary of Commerce; and Jean Davis, formerly North Carolina Assistant Secretary of Commerce and most recently CEO of MCNC.
"They were the first people in my career who ever asked me what I was passionate about and where I saw myself in the future," explains Person-Whitley. "I was very fortunate to have two women who really believed in me and who seeded that confidence to help me achieve my goals."
As director of EDA's Seattle Regional Office, Person-Whitley manages a team of professionals spread throughout the American West focused on working with local, state, and Tribal governments, as well as other organizations, to apply economic development practices to regional needs by developing plans and projects for federal collaboration and investment. An alumnus of North Carolina State University and Southern New Hampshire University, she lives in the Seattle area with her husband and two children.