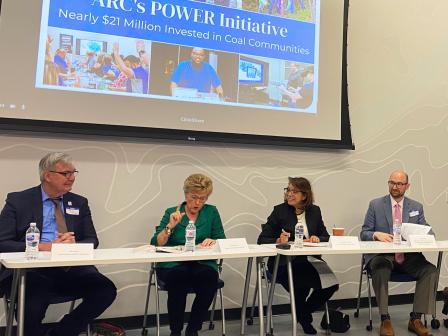 EDA Invests in Coal Communities: Assistant Secretary Castillo Visits Ohio and West Virginia to Spotlight Projects throughout Appalachian Region
Alejandra Y. Castillo, Assistant Secretary of Commerce for Economic Development, visited Youngstown, Ohio, and Charleston, West Virginia, last week. She toured EDA grant projects and participated in two events led by the Biden Administration's Interagency Working Group (IWG) on Coal and Power Plant Communities & Economic Revitalization.
The visit started March 17 at the Youngstown Business Incubator in Youngstown, Ohio, where the Appalachian Regional Commission (ARC) announced nearly $21 million in grants to 21 projects through its POWER (Partnerships for Opportunity and Workforce and Economic Revitalization) initiative. POWER targets federal resources to communities affected by job losses in coal mining, coal power plant operations, and coal-related supply chain industries.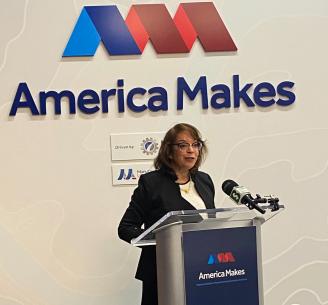 "Proudly, some of the new POWER grantees announced today are also Economic Development Administration grantees and/or EDA-designated Economic Development Districts," Castillo said during the announcement. "You are all shining examples of the importance of broad collaboration and coordinated planning to advancing any impactful economic development project."
Assistant Secretary Castillo visits Bullock Distillery, which received a CARES Act-funded Revolving Loan Fund grant from an EDA grantee.
After the announcement, Castillo participated in a roundtable discussion with several individuals, including Gayle Manchin, ARC's federal co-chair, and Briggs White, IWG's deputy director.
After the roundtable, Castillo toured the Youngstown Business Incubator and America Makes, the National Additive Manufacturing Innovation Institute. Castillo then joined a tour of the region led by Eastgate Regional Council of Governments, one of EDA's Economic Development Districts (EDDs), with stops at Youngstown State University's Excellence Training Center, Crab Creek Corridor in Youngstown, BRITE Energy Innovators in Warren and the "Golden Triangle" industrial area. Assistant Secretary Castillo heard from community leaders, economic development stakeholders, and business innovators about the critical needs of their communities, as well as the transformational opportunities that will result from the Biden-Harris Administration's investments and commitments to the region.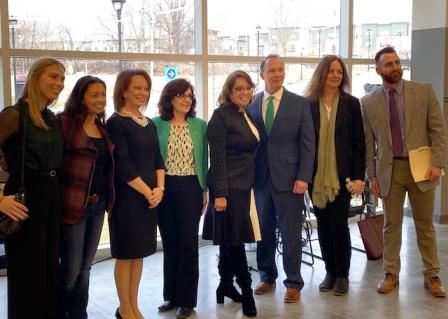 On March 18, Assistant Secretary Castillo moved to West Virginia and joined other federal leaders, including U.S. Secretary of Energy Jennifer Granholm, U.S. Secretary of Interior Deb Haaland, and U.S. Sen. Joe Manchin, of West Virginia, for an event at the Robert C. Byrd Institute, an EDA University Center. During a press conference, agencies announced multiple million-dollar investments in West Virginia to spur economic growth, including an announcement from the private sector.
Assistant Secretary Castillo visits Bullock Distillery, which received a CARES Act-funded Revolving Loan Fund grant from an EDA grantee.
During a second IWG roundtable, Castillo announced a $2.4 million EDA grant to Pikeville Medical Center in Pikeville, Kentucky, for the provision of new equipment that will be used to meet patient demand and critical healthcare needs – one of many projects highlighting the Administration's coordinated commitment to U.S. coal communities.
"EDA is proud to support community-led economic development strategies like this to boost coronavirus recovery and response efforts and to diversify, strengthen and grow the Appalachian regional economy," Castillo said.
The Pikeville grant was funded out of the American Rescue Plan's $300 million Coal Communities Commitment that is focused on helping communities affected by the decline in the coal industry recover from the pandemic and build back better by helping them develop or scale new industry sectors to create new good-paying jobs and develop and implement workforce development programs.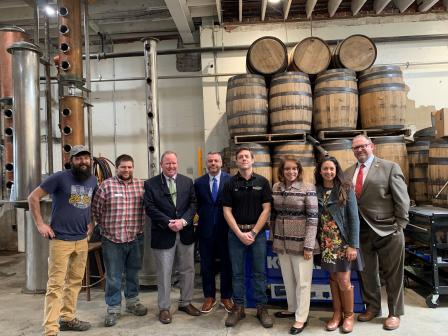 Additional American Rescue Plan investments to coal communities will be announced in the coming months – continuing EDA's long history of supporting Appalachian communities. EDA has also supported these communities through funding from the Assistance to Coal Communities program (ACC) and by working with a broad spectrum of regional partners and leaders to catalyze locally-driven economic development strategies.
Assistant Secretary Castillo visits Bullock Distillery, which received a CARES Act-funded Revolving Loan Fund grant from an EDA grantee.
Castillo's final stop in West Virginia was to the Bullock Distillery on the West Side of Charleston. The distillery received a CARES Act-funded Revolving Loan Fund grant from West Virginia Economic Development Administration, an EDA grantee. The Bullock Distillery, combined with the Staats Building historical renovation project on the same block, are revitalizing a low-income minority area in an area that has been hit hard by the pandemic and the decline in the coal industry.
In addition to the Coal Communities Commitment, EDA has extended its support beyond funding. EDA has hired Courtney Haynes as its new coal communities coordinator to work closely with EDA partner agencies, such as ARC, and external stakeholders to ensure that the Coal Commitment is implemented equitably and effectively to further develop EDA's coal communities' portfolio.
EDA has also started a Coal Communities e-newsletter. Click here to read the first e-newsletter.
Read more about EDA's Coal Communities Commitment.