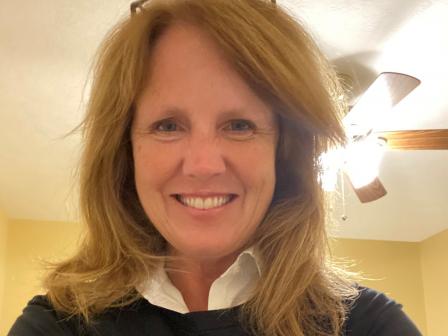 Female Mentors Helped Ohio EDR Navigate Career in Economic Development
When Ellen Heinz started her career in economic development 15 years ago, it was a male dominated field. Over the years, she credits a handful of female mentors and role models with teaching her to stand up for herself and make sure her voice was heard.
"They taught me to be courageous and strong, and to always do what was best for my community; to never give up," said Heinz, who is now EDA's Economic Development Representative (EDR) in Ohio.
Those lessons also emphasized the critical need for women's voices in economic development, especially strategic planning. It's something important to remember during Women's History Month, she said.
"Women need to be at the table when a community is creating an economic strategy or developing a Comprehensive Economic Development Strategy (CEDS)," she said. "A CEDS is a roadmap for success that can only be built effectively with widespread input and everyone's perspective."
Heinz grew up watching her parents run their small business in Saginaw, Michigan, which meant dinner discussions were often about payroll, contracts and the challenges of staying in business.
That experience gives her a unique perspective as an EDR. In this role, Heinz works with local partners to support small businesses, communities and regional economic development initiatives.
"I'm acutely aware of the struggles of small businesses and the challenges of a community trying to recover from major job losses," said Heinz, who came to EDA in November 2020. "I'm fortunate to have had experiences that provide a unique insight into the opportunities and challenges that face start-up businesses, manufacturers and small-town communities. It helps me determine the right questions to ask to identity the issue so I can help connect them to the right resources to for transformative assistance."
Heinz has spent most of her career in Ohio in both the private and public sectors in executive leadership roles in economic and community development, workforce development and corporate development.
Prior to EDA, she worked as the Vice President of Corporate Development for Norweco, a wastewater treatment system manufacturing company in Norwalk, Ohio. She also held executive roles at a New Horizons Baking Company and Borgers Group, a German automotive manufacturer who opened its second U.S. operation in Ohio.
"At Borgers, I was the first person they hired in Ohio," she said. "Being a part of constructing and launching a new manufacturing facility, from greenfield site to an operational 150,000-square foot facility in under 12 months, was the opportunity of a lifetime."
One of her favorite roles was as executive director of the Norwalk Economic Development Corporation, where for six years she worked on retention, expansion and attraction projects. Heinz is a credentialed Ohio Certified Economic Developer (OhioCED) and has been involved with the Ohio Economic Development Association for many years.
Her workforce development and education experience includes being the director of Workforce Development at North Central State College, teaching at the secondary and post-secondary education levels and working in Japan as an English as a Second Language (ESL) instructor.
Heinz still returns to Saginaw, Michigan, where her father runs the family's trucking and excavation company across from her childhood home. The business sits on property next to the tree nursery that her grandparents operated and the small business that her brother now runs with his wife.
"I learned a lot from watching my family members start up and run small businesses," she said. "This was a seed that was planted a long time ago that was never cultivated until I moved to Ohio."
Growing up in Saginaw, she remembers a regional economy that relied almost solely on automotive manufacturing, which brought fear and anxiety about job loss.
"It felt like the whole community was built around General Motors and its suppliers," she said. "There was always a looming threat that they were going to close their local operations. Saginaw has many great businesses and has come a long way since then, but significant job loss is hard to recover from."
Heinz feels strongly about helping communities diversify their economies.
"We want to make sure local economies are strong and resilient," she said. "That's why I love EDA and working with such great colleagues in our Chicago Regional Office. I've never worked with such an outstanding team in my entire career."
Heinz completed her undergraduate degree at Michigan State University, and Master of Education degree at Ashland University. She has resided in Ohio since 2001. She has an 11-year-old daughter and a fuzzy golden doodle named Flynn.