SSTI Tapped to Lead Community of Practice Dedicated to Advancing Technology-Based Economic Development
The United States economy is built on innovation, a fact affirmed in 2009 with the passage of the American Recovery and Reinvestment Act which set out to provide "investments needed to increase economic efficiency by spurring technological advances." The 2021 American Rescue Plan Act further committed the United States to the development of an economy primed to lead in the global marketplace through the creation of new industries and the application of cutting-edge technology in traditional enterprises.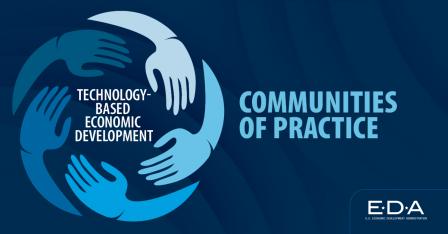 As part of its enduring commitment to support the entrepreneurs and startups responsible for creating the high-skilled, good-paying jobs of the future, the U.S. Economic Development Administration (EDA) this month announced the award of a $3.5 million grant to SSTI to coordinate and lead a Community of Practice (CoP) dedicated to building the capacity of EDA grantees for technology-based economic development.
The Technology-Based Economic Development (TBED) CoP will develop interorganizational knowledge ecosystems connecting EDA grantees working in the areas of risk capital, technology development and entrepreneurial support. Specific tactics to be undertaken by the CoP include curation of conferences, workshops, and colloquia; stewarding function-based networking forums for chief executives, development officers, and other grantee stakeholders; and the provision of technical assistance to EDA grant recipients.
"Technology is changing the face of the global economy and technology-based economic development is among EDA's key investment priorities," said Alejandra Y. Castillo, Assistant Secretary of Commerce for Economic Development. "The TBED CoP will advance an ideal synthesis of vision and practice to foster entrepreneurship and catalyze innovation."
Established in 1996, SSTI is a national nonprofit organization that strengthens initiatives to create a better future through science, technology, innovation and entrepreneurship. It conducts research on common performance standards, identifies best practices, analyzes trends in and policies affecting the innovation economy, and fosters greater connection and cooperation among and between all public, private and nonprofit organizations encouraging prosperity.
"America is facing an incredible array of structural economic challenges due to the impacts of the pandemic, inequality, global competition, and climate change," said Dan Berglund, President and CEO of SSTI. "The new TBED CoP will meet the need of EDA grantees for a resource that will work to improve their impacts and expand their capacities by identifying and disseminating effective practices, building inter-organizational networks, developing staff knowledge and skills, and forming partnerships with new stakeholders."
SSTI will partner with the Association of University Research Parks in the implementation of some aspects of the TBED CoP, work on which will begin immediately. For more information on EDA's Communities of Practice program, visit EDA's Communities of Practice webpage.