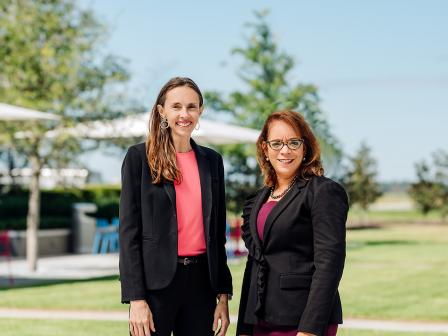 EDA Taps NGIN to Lead Equity Impact Investments
The Economic Development Administration (EDA) recognizes the need for more resources to improve technical assistance and capacity building in underserved populations and communities' representation in local economic development. Therefore, last year, we elevated 'equity' as our top investment priority.
Today, the Networks program announced the award of a $5.5 million grant to New Growth Innovation Network (NGIN) to design and launch a new initiative, Equity Impact Investments. Established in 2018, NGIN is a nonprofit knowledge, insight, and innovation hub supporting economic development practitioners in advancing inclusive economic growth and closing structural opportunity gaps. NGIN is partnering with two organizations — Local Initiatives Support Corporation and the International Economic Development Council — on program development and delivery.
Equity Impact Investments will deliver a transformative, three-year, capacity-building program to 120 organizations operating at the forefront of equitable development in the United States. Funded through the Coronavirus Aid, Relief, and Economic Security (CARES) Act, this initiative is a part of EDA's commitment to ensuring the consistent and systemic, fair, just, and impartial treatment of all individuals, including individuals who belong to underserved communities.
"President Biden called on federal agencies to advance equity by identifying and addressing barriers to equal opportunity that underserved communities face," said Alejandra Y. Castillo, Assistant Secretary of Commerce for Economic Development. "The Equity Impact Investments initiative is one of several programs that demonstrate EDA's commitment to the realization of the president's vision to make sure we embedded an equity lens and action plan into all our efforts at EDA to redress inequities that serve as impediments to equal opportunity and growth in distressed communities across the nation."
Equity Impact Investments will focus on development and delivery of training and toolkits that disseminate knowledge of economic development best practices in serving underrepresented populations. These resources will initially be made available to 60 to-be-selected community-based organization and 60 to-be-selected economic development organizations that serve underrepresented populations with final program assets ultimately provided to all EDA grantees. In addition, a series of 24 geographically diverse, in-person workshops will offer technical assistance and forge fundraising coalitions and interorganizational connectivity.
"This is a sustained partnership with EDA and it personifies equity in action. When underserved populations and communities are included as assets in economic regional plans, they make meaningful contributions in job creation, business growth and supply chain expansion, thus expanding the overall size of the regional economy. Equity Impact Investments is an instrumental piece of EDA's strategic vision, and we are honored to lead this effort with our local community partners," said M. Yasmina McCarty, CEO and President of NGIN.
Equity is among EDA's seven investment priorities. While all EDA grant applications are evaluated with an equity lens, the bureau has also launched several dedicated programs to advance best practices in equitable economic development and deliver focused support to underrepresented populations. In addition to Equity Impact Investments, EDA will soon announce an equity research grant and, in 2021, launched the Indigenous Communities program, a $100 million investment designed to support Indigenous communities disproportionately impacted by the pandemic.