EDA Partners With American Manufacturing Communities Collaborative and Northeast-Midwest Institute to Establish the Manufacturing Communities National Expansion Project
Over the last 18 months, the U.S. government has relentlessly focused on an industrial strategy designed to revitalize the nation's manufacturing base, strengthen critical supply chains, and position U.S. workers and businesses to lead and compete globally. The Economic Development Administration (EDA) is a linchpin of the government-wide effort to invigorate and sustain a historic recovery in domestic manufacturing, committing a major portion of its $3 billion American Rescue Plan Act (ARPA) funding toward catalyzing projects and initiatives leading to good-paying, manufacturing jobs.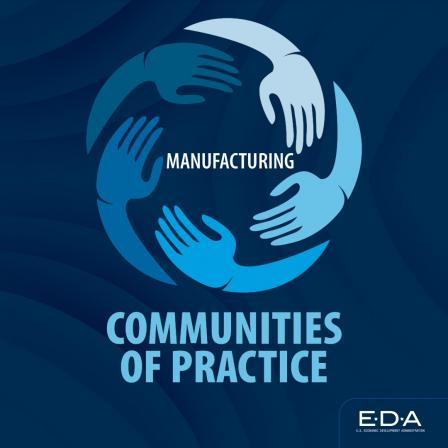 This month, EDA announced a $1,528,016 grant to the American Manufacturing Communities Collaborative (AMCC) and the Northeast-Midwest Institute to establish and operate a Community of Practice for ARP grant recipients and manufacturing cohort stakeholders: the Manufacturing Communities National Expansion Project. This initiative will bring together manufacturing cohort stakeholders and leadership in a collaborative effort to amplify and align best practices in manufacturing-focused economic development. In doing so, it will develop electronic communications — including newsletters, podcasts, and social media products — designed to disseminate best practices to manufacturing communities; organize and convene regular events to promote engagement between manufacturing cohorts; and create and curate asynchronous, web-based learning opportunities for manufacturing cohort stakeholders and leadership.
"EDA grantees are working tirelessly to create opportunity for workers and employers in the manufacturing sector," said Assistant Secretary of Commerce Alejandra Y. Castillo. "Through the Manufacturing Communities National Expansion Project, EDA seeks to support the organizations at the forefront of this national effort."
Established in 2018, AMCC is a nonprofit working to create and strengthen an alliance of communities in achieving sustainability through economic growth, improved environmental performance, and inclusive job creation within a revitalized American manufacturing base.
"The Manufacturing Communities National Expansion Project will focus on increasing institutional capacity and expanding engagement to recipient organizations to connect them to a supportive manufacturing ecosystem community," said Matt Bogoshian, Executive Director of AMCC. "We are excited to work with EDA and the Northeast-Midwest Institute on this historic initiative."
The Northeast-Midwest Institute is a nonprofit, nonpartisan research, education, and policy organization with a stated mission of promoting economic vitality, environmental quality, and regional equity.
"Through the Manufacturing Communities National Expansion Project, the Northeast-Midwest Institute and AMCC will work to increase understanding of economic development principles among regional stakeholders," said Dr. Michael Goff, President and CEO of the Northeast-Midwest Institute. "These efforts will provide stakeholders with the tools they need to craft appropriate interventions optimized to producing beneficial outcomes."
Work on the Manufacturing Community of Practice will begin immediately with EDA grant funding supporting a four-year period of performance. Visit our website for more information on EDA's Communities of Practice.