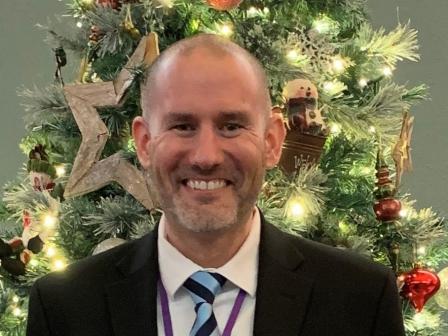 SPOTLIGHT | How Tom Baron is Bridging The Gap Between Tribes and Resource Providers in Wisconsin
Tom Baron is an Economic Development Representative (EDR) with EDA's Chicago Regional Office. He works with applicants who represent Wisconsin and the 11 federally recognized Tribes that call the Badger State their home. One of his responsibilities is to increase Tribal awareness of funding opportunities available through EDA and its federal, state, and non-profit partners.
To do this, Tom and a team of partners employ the Wisconsin Tribal Nations Toolbox, a series of meetings between EDA representatives and the Tribes. It was established by his predecessor, Lee Shirey, who serves as EDR for Michigan, and Gary Mejchar, Director of Development at First American Capital Corporation. The two had recognized a disconnect between the Tribes and resource providers, including, federal, state, and non-profit organizations. They created the toolbox to build connections and to raise greater awareness.
"I attended several of those first, in-person sessions dating back to 2018, visiting all 11 Tribes in one week," Tom recalls. "Then as the pandemic became a reality, we took the toolbox virtual to keep the conversation going."
As the coronavirus continued throughout 2020, many Tribal communities were disproportionately impacted, seeing their businesses closed indefinitely. As their needs grew, Tom and his partners continued to coordinate these events to meet the growing demand. They provided him with a greater sense of each Tribe's respective needs.
The sessions have identified a series of critically needed projects, some of which have since received funding through EDA. One such award was to Menominee Tribal Enterprises in Neopit, who received $5 million in CARES Act funding. This grant was designed to upgrade its current timber and sawmill processing capacity and to create jobs for the community.
Another recent award was to the Ho-Chunk Nation in Black River Falls, who received nearly $900,000 in CARES Act funding. The grant was designed to develop an economic diversification strategy plan that assesses assets, resources and potential opportunities to build economic resiliency.
Today, as the Tribes move beyond the pandemic, meetings are done on a case-by-case basis. Tom and his partners work to identify the Tribe's needs and any challenges they may face and to outline their short- and long-term goals. This information is presented to resource providers during the Tribal Tour event.
Tom has noticed several themes over the course of these sessions, one being a need for adequate infrastructure, such as high-speed internet access. He's also been impressed by the entrepreneurial spirit he encounters among Tribal communities, who's projects often involve food development, culture, and art.
"I've grown as a person in this position. When I first began, I thought I had some knowledge of the Tribes and their cultures, but I've just learned so much. I've appreciated learning about their respective cultures as I've worked to forge new relationships."
For more information on resources available to Tribal nations, please visit eda.gov.