BLOG | Collaboration Key to Boosting Good Jobs Challenge Workforce Systems
This month, the delegations from all 32 grantees of EDA's Good Jobs Challenge gathered in Washington, D.C. to focus on collaboration and developing strong workforce systems in their regions. Highlighted by remarks from three Cabinet members and a Fortune 500 CEO, the 2022 Good Jobs Challenge Convening provided grantees with access to experts in the workforce field and opportunities to build connections with each other. The convening was hosted by Jobs for the Future (JFF), which is leading the Good Jobs Challenge Community of Practice (CoP). 
Cross-Sector Collaboration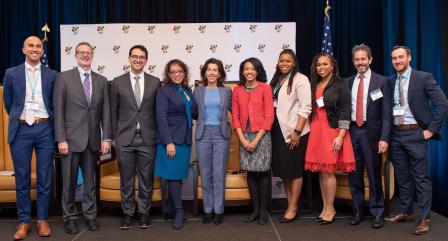 The two-day convening brought together grantees from across the country, federal partners, and leading employers to highlight that meaningful change in workforce development doesn't occur in a silo, rather it takes partnership across government, industry, educational institutions, community based organizations, and other key stakeholders. U.S. Department of Commerce Secretary Gina Raimondo kicked off the convening, recognizing how the Good Jobs Challenge supports American workers and communities and highlighting how the training programs will build a skilled, diverse workforce to ensure America is prepared to innovate, compete, and succeed in a 21st Century global economy.
To do this requires partnership across communities and government. The Good Jobs Challenge was developed in collaboration with both the Department of Labor and the Department of Education.
Systems Building for Regional Economies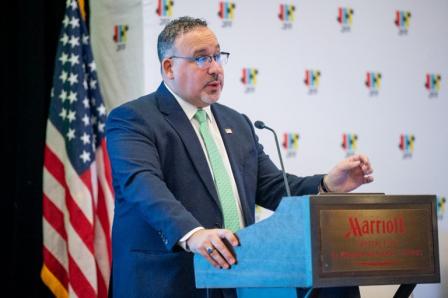 U.S. Secretary of Education Miguel A. Cardona gave remarks on day 2, emphasizing the intentional teamwork between the three government agencies. He said that creating a through-line between PreK-12 systems, community and technical colleges, 4-year schools, and industry partners will lead to sustainable impact that outlasts us in our current positions. Secretary Cardona encouraged Good Jobs Challenge grantees to raise the bar by connecting workforce training systems to education systems with equity and inclusion.
Much of the convening focused on creating quality jobs. An important component of the Good Jobs Challenge is including employers in developing workforce development programs. U.S. Department of Labor Secretary Martin J. Walsh joined the convening and highlighted the importance of creating workforce systems that are in tune with the needs of the local economy. Unions are a critical component of successful workforce programs, and he recognized the key role they play in the grantee's projects.
Employer Buy-In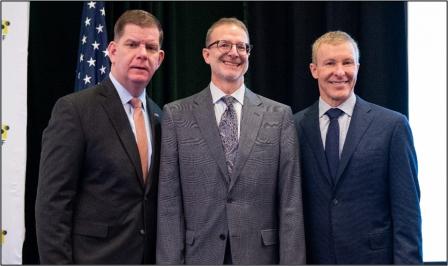 Joining Secretary Walsh was Scott Kirby, the Chief Executive Officer of United Airlines and the chair of the Business Roundtable's Education and Workforce Committee. From his perspective in business, Mr. Kirby highlighted the importance of employers partnering with public stakeholders to build equitable, demand-driven workforce systems.
In addition to spotlighting the key components of successful workforce programs, sessions at the convening focused on partnerships in action, comprehensive data practices, and innovative diversity, equity, inclusion, and accessibility practices.
Programming also addressed job quality, the importance of listening to workers' voices, and how to build equitable workforce systems
Throughout the two-day event, grantees had the opportunity to learn and connect with each other. Grantees left the convening with a commitment to collaborate and support each other's projects.