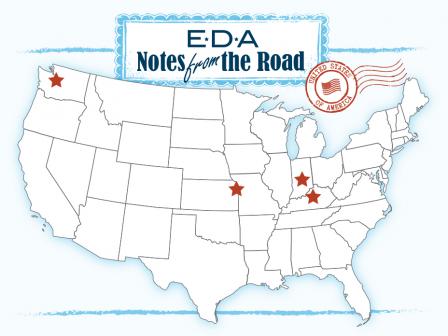 Notes from the Road: Chapter 1
Key Highlights
Visits this Week: 4
Total States Visited: 4
Locations: Indianapolis, IN; Louisville, KY; Kansas City, MO, Tacoma, WA
Summary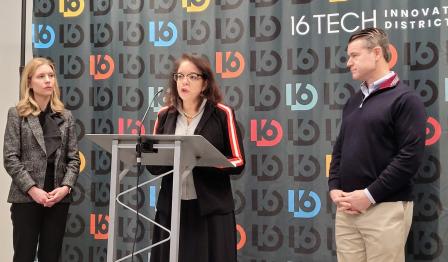 This month EDA "hit the road" to discuss our programs, including two of our newest initiatives to create jobs and grow regional economies.  Throughout America we are convening government officials and subject matter experts in economic and workforce development, community engagement, place-based programming, innovation, and other sectors, to share insights and suggestions to strengthen the scope of our programming and ensure we achieve the maximum impact.
The Regional Technology and Innovation Hub Program, known as "Tech Hubs," will enable EDA to establish cutting-edge and strategic regional technology hubs that foster geographic diversity in innovation, strengthen national and economic security, and create quality jobs in underserved and vulnerable communities.
The Recompete Pilot Program aims to provide grants to distressed communities to create and connect workers to good jobs, reducing high prime-age (25-54 years old) unemployment   and supporting long-term comprehensive economic development.
On the Road 
Assistant Secretary Castillo led our first stop to Indianapolis, Indiana. We were so pleased to be joined by U.S. Senator Todd Young at the 16 Tech Innovation District to discuss technology and innovation with leaders from education, industry, and technology from across Indiana.

Next, we traveled south down I-65 to Louisville, Kentucky. The Kentuckiana Regional Planning and Development Agency hosted a packed conv

ersation on

technology and innovation featuring Shelby County Judge & Executive Dan Ison and Bullitt County Judge & Executive Jerry Summers, along with many leaders from KY's top academic and development institutions.

US Rep. Derek Kilmer (WA-6) and Deputy Assistant Secretary Dennis Alvord lead a discussion on job creation and workforce development in Tacoma, WA.

The week continued with Deputy Assistant Secretary Alvord and members of Team EDA heading to Tacoma, Washington to discuss job creation and workforce development via the Recompete Pilot Program. Congressman Derek Kilmer (WA-6) helped guide the conversation, which also included representatives from nearby municipal governments and development organizations.

Following this visit, Deputy Assistant Secretary Alvord traveled to Kansas City and the Mid-America Regional Council to visit with economic development stakeholders to highlight technology, innovation, and entrepreneurship. He was joined by a diverse group of stakeholders and subject matter experts, including a mix of rural and urban community leaders and regional and statewide economic development leaders sharing their perspectives on creating inclusive, impactful regional technology growth.

During our tour over the next several weeks EDA will continue to engage

communities on our new programs as well as ongoing programming related to innovation and technology, job creation, and workforce development

.
Follow EDA on LinkedIn, Facebook, Twitter, and Instagram to stay up to date with EDA's engagement with local communities and regional stakeholders, as well as all of EDA's exciting announcements ahead.