BLOG | EDA Celebrates Asian American and Native Hawaiian/Pacific Islander (AANHPI) Heritage Month
This month, the Economic Development Administration (EDA) joins other Department of Commerce bureaus in observing Asian American and Native Hawaiian/Pacific Islander (AANHPI) Heritage Month.
Asian American and Native Hawaiian/Pacific Islander (AANHPI) Heritage Month provides time to reflect on the past and present contributions of the United States' ANNHPI communities to the social and cultural development of the American nation. It's also a chance to celebrate the vital role AANHPI entrepreneurs and innovators play in U.S. economic development.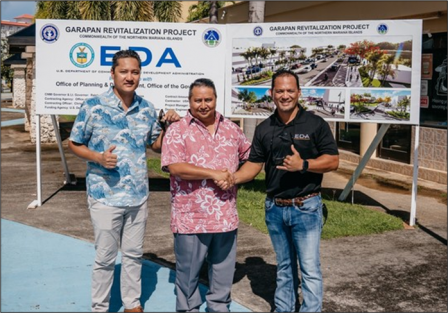 According to the 2021 U.S. Census Bureau's Annual Business Survey, there were approx. 612,194 Asian-owned businesses employing roughly 5.2 million people in the United States.
Through its equity-focused mission, EDA is committed to supporting AANHPI business entrepreneurs as they contribute to the creation of an economic ecosystem that amplifies the promise of American prosperity to all. 
Highlights of recent EDA investments include:
Commonwealth of the Northern Mariana Islands (CNMI).

EDA recently broke ground on the Garapan Revitalization Project. This $8 million initiative is helping transform Saipan's major tourism center of Garapan into a world class destination that will catalyze the continued growth of the territory's tourist industry, supporting numerous local Chamarro business owners in the process.
California

. In Los Angeles County

—

home to more Asian Americans and Pacific Islanders than any other county in the United States

—

EDA worked with the Los Angeles County Development Authority, an EDA-designated Economic Development District (EDD), to capitalize a Revolving Loan Fund that brings critical gap financing and capital access to small businesses in underserved communities. Recently, EDA recapitalized that fund with an additional $11 million investment.
Equity Impact Investments.

EDA's grant to the New Growth Innovation Network launched 

Equity Impact Investments

, a program working to develop and deliver resources that support economic development organizations in effectively serving underrepresented populations, including Asian Americans and Native Hawaiians/Pacific Islanders.
"I am proud to join EDA staff reflecting on more than 250 years of AANHPI contributions to U.S. economic development," said Assistant Secretary of Commerce for Economic Development Alejandra Y. Castillo. "From the first arrival and settlement of Filipino merchant mariners in the American South in the 1700s, to the work done by Chinese immigrant laborers in the 19th century building the railroad that connected the nation, to the present-day AANHPI innovators in manufacturing, technology enterprises and more, the heritage of the AANHPI community is the heritage of American commerce. I'm proud to lead an agency whose number one investment priority is equity; and proud of our ever-growing connections to AANHPI communities throughout America actualizing that goal."
Follow EDA on Twitter, Facebook, Instagram, and LinkedIn throughout May for updates on EDA observances and activities in celebration of Asian American and Native Hawaiian/Pacific Islander (AANHPI) Heritage Month.