Remembering Candace Waterman
A champion for growth and grace
EDA remembers Candace Waterman, a champion for women in business and economic opportunity for all.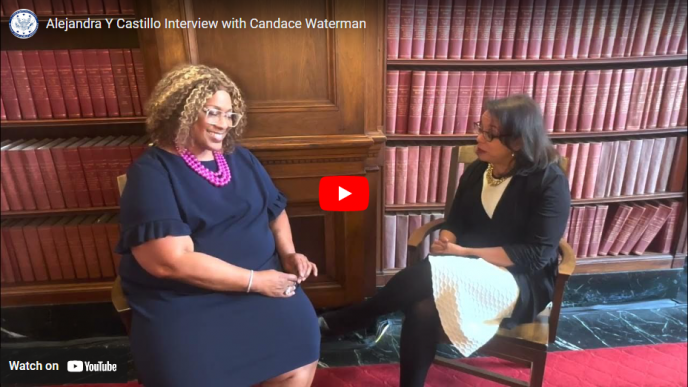 It was just a few weeks ago when I sat down with Candace Waterman in the Department of Commerce library. We had a long list of questions about leadership, equity, blazing trails, and more. But after we got through the first few bullet points, the conversation quickly changed from two colleagues sharing an interview to two dear friends sharing their passions. 
That's what Candace has always done best: put people at ease so that meaningful connections can be made.   
When I asked Candace Waterman about the most important lesson she's learned across her inspiring career championing change for women in the economy, she said it was to "give yourself grace."   
Candace not only gave us grace, she gave us a lifetime of leadership, friendship, and inspiration. She helped propel an entire generation of advocates working for a fairer, more equitable economy and society. It was through her words, her lived experience and impact that we were able to witness Candace commitment to making this a better world.  
Most recently,  Women Impacting Public Policy (WIPP) shared Candace's five years anniversary in her role where she served as a trailblazer and champion for women entrepreneurs, making significant strides in economic equity, procurement inclusion and access to the global marketplace for over 12 million women-owned companies in the U.S.  Her impact extended beyond WIPP, as she served as a U.S. Delegate of the W20, amplifying her influence as a global thought leader. Before her time at WIPP, Candace held key positions at the Women's Business Enterprise National Council (WBENC), where she led groundbreaking initiatives and successfully digitized the certification program. Her unwavering commitment to diversity, inclusion and operational excellence earned her numerous prestigious awards. 
While we have lost Candace, her spirit, her joy for service, and her grace will live on forever. She has inspired countless leaders to find their voice and use their power to help others. She made it possible for so many women to step up into leadership roles and take their place at the table. I'm one of them. And I'm forever grateful to my friend, Candace.