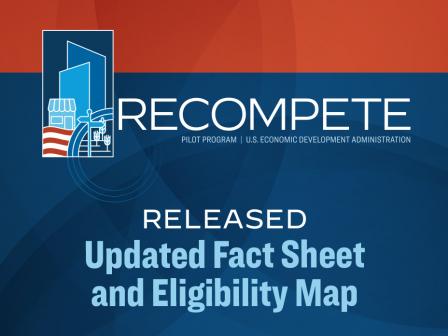 A Look at the Recompete Pilot Program Fact Sheet: What you need to know to get ready to apply for Recompete
The Department of Commerce's Recompete Pilot Program is an infusion of opportunity into communities across the country. This initiative will invest $200 million toward interventions that spur economic activity in geographically diverse and persistently distressed areas.
As part of President Biden's commitment to building an economy that works for everyone, we are determined to help equitably create workforce opportunities throughout the nation to ensure workers from every community and every educational level are able to achieve their piece of the American Dream. This Pilot Program aims to provide significant funding to geographically diverse and persistently distressed communities, creating discernable impact through flexible, bottom-up strategy development and implementation investments.
As part of implementing the bipartisan CHIPS and Science Act, EDA will release its detailed notice of funding opportunity (NOFO) and seek applications later this month. EDA recognizes that distressed communities may also face bandwidth limitations. The Recompete Pilot Program is designed to be as straightforward and customer-focused as possible to streamline the process for applicants.
To support applicants in determining geographic eligibility, EDA, in partnership with Argonne National Laboratory, is releasing the Recompete Eligibility Mapping Tool (REMT). Please click here to access the Mapping Tool, which includes a user-friendly map and instructional materials. 
EDA is also releasing an updated Fact Sheet (PDF), providing answers to some frequently asked questions about the Recompete Pilot Program, including:
HOW WILL FUNDING BE ALLOCATED?
WHAT IS THE PROGRAM TIMELINE?
WHO IS ELIGIBLE TO APPLY?
HOW CAN APPLICANTS PREPARE?
Additional information on the release of the Recompete Pilot Program NOFO is forthcoming.  We will be sure to keep you updated, and we encourage you to inform your networks and interested stakeholders to keep checking eda.gov/Recompete for updates and other helpful information.