EDA AmeriCorps VISTA Volunteer Works with Acadiana Planning Commission to Boost Region's Capacity to Create Economic Opportunity
February 28, 2018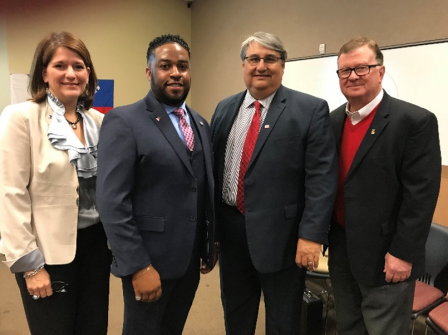 Acadiana Planning Commission CEO, Monique Boulet, EDA AmeriCorps VISTA Keithen Domingue, EDA Austin Regional Director Jorge Ayala and University of Louisiana Lafayette President APC Board Member-Ex-Officio, Dr. Joseph Savoie pose during press conference announcing federal economic development district designation.
This post is part of the U.S. Economic Development Administration's blog series on the EDA AmeriCorps VISTA program. EDA has partnered with the Corporation for National Community Service to allow AmeriCorps VISTAs to partner with EDA-designated Economic Development Districts to support their projects and receive hands-on training in the field of economic development.
Keithen Domingue serves as the AmeriCorps VISTA Environmental Justice Community Organizer for the Acadiana Planning Commission located in Lafayette, Louisiana. His assignment is to work on the brownfield sites located in Lafayette's Four Corners area, with a focus on the analysis and development of commercial cleanup and re-use.
Domingue grew up in Nashville, Tennessee where he witnessed wealth disparity in both urban and rural communities. Domingue's passion for community engagement was stirred as he grappled with the disturbing images of poverty.
While earning a Bachelor of Arts in Political Science at the University of Louisiana at Lafayette, Domingue organized many community outreach projects that promoted education, justice, and rehabilitation. Domingue's goal is to build a career centered around education and its power to create economic advancement for all.
Under the guidance of Attorney Chad LaComb, his site-supervisor at the Acadiana Planning Commission, Domingue is working on a business inventory map of regional adjudicated or blighted properties. To date he has visited over 125 of the sites identified. In addition, the commission has introduced the brownfield project to the Mayor's office to discuss potential redevelopment projects and federal funding opportunities.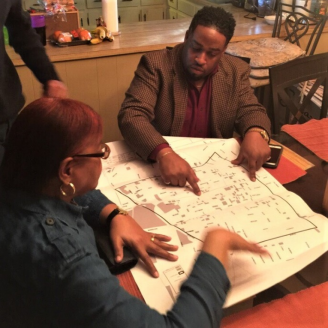 EDA AmeriCorps VISTA Keithen Domingue reviews business inventory map of regional adjudicated or blighted properties at Acadiana Planning Commission.
In December, EDA designated the Acadiana Planning Commission as an Economic Development District for the Department of Commerce. At the event announcement, Domingue was able to meet with elected officials and community leaders in attendance, as well as EDA's Austin Regional Director, Jorge Ayala.
This past year, Domingue completed two separate certifications for the Louisiana Local Technical Assistance Program and the Federal Highway Administration, and plans to complete online courses related to nonprofit fundraising that are available on the VISTA Campus. Domingue was also recently accepted into a dual master's program at Johns Hopkins University to study public and nonprofit management.
Domingue keeps himself busy by using his platform as an AmeriCorps VISTA to conduct community outreach on a grassroots level. He embodies what it means to be an EDA AmeriCorps VISTA through service to his community and the program is fortunate to have his service!