Spotlight: EDA Announces Two New Opportunities to Engage in Entrepreneurship/Innovation Programs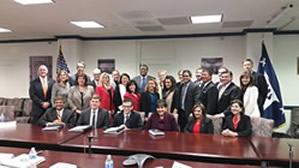 Commerce Secretary Penny Pritzker meets with 2015-2016 NACIE members
EDA's Office of Innovation and Entrepreneurship (OIE) is excited to announce major developments in two of its core initiatives:
Beginning May 2, 2016, OIE is soliciting applications for appointment to the National Advisory Council on Innovation and Entrepreneurship (NACIE) for its next term. The application period will close at 11:59pm Eastern Time on June 1, 2016.
The 2016 Regional Innovation Strategies (RIS) Program Federal Funding Opportunity (FFO) has been launched. The application period is currently open and will close at 11:59pm Eastern Time on June 24, 2016.
Success Story: New Orleans BioInnovation Center, New Orleans, Louisiana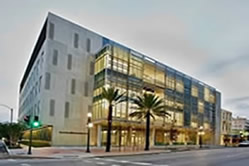 The New Orleans BioInnovation Center in New Orleans, Louisiana
In 2015, the New Orleans BioInnovation Center (NOBIC) was awarded a $500,000 i6 Challenge grant to support increased commercialization in the region's growing life science cluster and provide technical assistance to entrepreneurs in the Greater New Orleans and across the state.
NOBIC has scaled its assistance to entrepreneurs by engaging a greater number of businesses, providing workshops, networking, and resources to entrepreneurs, and developing a mentorship network to provide additional leadership to rising startups.
Highlight: Commerce Communities that Work Partnership Program Building Talent Pipeline in Dalton, Georgia; NACIE Member Spotlight; DOC Talks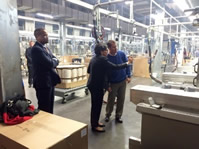 Secretary Pritzker and Assistant Secretary Williams tour Engineered Floors in Dalton, Georgia
On May 6, U.S. Secretary of Commerce Penny Pritzker and EDA Assistant Secretary Jay Williams visited Dalton, Georgia to highlight the Commerce Department's Skills for Business Agenda and its signature initiative, the "Communities that Work Partnership" (CWTP). As part of their visit, they toured Engineered Floors and the Northwest Georgia College and Career Academy's Advanced Manufacturing and Business Academy.
The recent ManpowerGroup's annual Talent Shortage Survey noted that 32 percent of U.S. employers report difficulties filling job vacancies due to talent shortages. Through its Skills for Business Agenda, the Commerce Department created the Communities that Work Partnership with the Aspen Institute to facilitate industry-led training partnerships that help prepare workers with the skills they need for in-demand jobs.
NACIE Member Spotlight
Eric Severson discusses his NACIE experience: At NACIE, Diversity is the Mother of Invention.
DOC Talks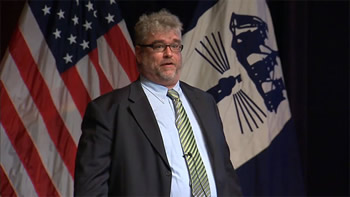 Andrew Reid, EDA's Economic Development Representative for New York and Pennsylvania, delivered an overview of bureau efforts to help Columbia County, Pennsylvania recover from devastating flooding as a presenter in the "DOC Talks" speaker series. View Andrew's presentation here.