Success Story: New Orleans BioInnovation Center, New Orleans, Louisiana
May 2016 Newsletter



New Orleans BioInnovation Center logo
In 2015, the New Orleans BioInnovation Center (NOBIC) was awarded a $500,000 i6 Challenge grant to support increased commercialization in the region's growing life science cluster and provide technical assistance to entrepreneurs in the Greater New Orleans and across the state.
NOBIC has scaled its assistance to entrepreneurs by engaging a greater number of businesses, providing workshops, networking, and resources to entrepreneurs, and developing a mentorship network to provide additional leadership to rising startups.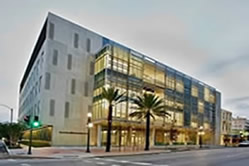 The New Orleans BioInnovation Center in New Orleans, Louisiana

Over the past year, NOBIC has assisted 42 companies supporting 34 full-time positions, which have raised a total of over $15.2 million in capital, including over $2.6 million in SBIR and STTR grants and have 63 new patents pending.

One of the most innovative companies that NOBIC has supported is AxoSim Technologies, who was recently awarded a $225,000 STTR grant to further develop its "nerve-on-a-chip" technology. Through an innovative micro-engineering technique, AxoSim has developed a 3D cell-based model which mimics living tissue in form and function to improve drug development in the pharmaceutical industry and in the chemotherapy space in particular.

This technology is an alternative to exploratory animal testing and will provide pharmaceutical companies with access to high content data faster and earlier than currently possible.