National Advisory Council on Innovation and Entrepreneurship (NACIE) Board (2014-16)
Brian Balasia

Founder, CEO Digerati, Inc.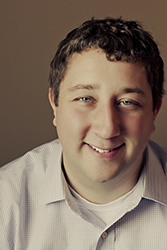 Brian is the co-founder and Chief Executive Officer of Digerati, a Detroit-based software development and process Improvement firm. Brian is responsible for directing the company's vision, supporting business development, and overseeing the operations of Digerati's subsidiaries. Brian has over a decade of proven expertise and thought leadership in driving organizational change through the intelligent application of technology. Under Brian's leadership, Digerati has been honored with numerous awards, including the Midwest Collaboration Award, the Corp! Economic Bright Spot and Digitial/Science/Technology Awards. Brian was also recognized by the Detroit Free Press as a Shining Light Award winner in 2011 for his leadership in the community.
Brian has extensive experience in the design and implementation of high-efficiency business systems. He maintains a hands-on approach to his role at Digerati and is a recognized expert in the disciplines of operations modeling, systems design, and product development. Under his leadership, Digerati has created a number of nationally recognized software solutions including InsYght and Classroom to Career.
Brian is passionate about entrepreneurship and community development. He has focused his community involvement around entrepreneurship, innovation, and talent development with a heavy emphasis on broad inclusion. In this capacity, Brian regularly serves as an advisor to policy makers, academic institutions, and foundations. Additionally, Brian has served as an adviser and consultant for start-up technology firms across the country.
Brian received his BSE in Aerospace Engineering from the University of Michigan. Outside the office Brian is actively involved in the community, serving as a Board member for the Governor's Talent Investment Board (State of Michigan), Venture for America and The MORE Program. Brian is also a U.S. German Marshall Foundation Fellow and a graduate of the Leadership Detroit program.