National Advisory Council on Innovation and Entrepreneurship (NACIE) Board (2014-16)
Eric Severson

SVP Global Talent Solutions, Gap Inc.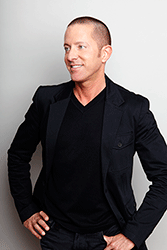 Eric Severson is Senior Vice President of Global Talent Solutions, responsible for enterprise talent management for Gap Inc.'s 135,000 employees, including strategy, total rewards, technology, performance, engagement, development, organizational effectiveness, and recruitment.
As Co-CHRO of Gap Inc. (with SVP HR Dan Henkle), Eric has been responsible for leading Gap Inc.'s talent strategy, including groundbreaking work to differentiate Gap as one of the best places to work in retail by raising the minimum wage to $10/hour and releasing statistical proof that Gap pays women and men equally and offers equivalent career advancement opportunities.  In 2014, Eric established a pilot partnership between Gap and the UC Hastings Center for Work-life Law to identify scheduling practices that would improve work-life stability for hourly employees.
Before entering his current position, Eric was Senior Vice President of Talent for Gap North America.  In that role, Eric fostered talent innovation, most notably via Gap's Performance for Life program, which drives employee performance by promoting individual and organizational wellbeing.  Profiles of Gap's talent management story have been featured in the books Pull: The Power of Magnetic Leadership, The True Happiness Recipe: How to Stop Your Job From Killing You and Create Work-Life Harmony Everyday, and Why Managing Sucks and What to Do About It.
Previously, during seven years as head of HR for the Outlet Division, Eric and his team focused on differentiating Outlet's position in the talent marketplace through cutting edge employment practices that set the business apart from its competition. For example, Gap Inc. Outlet was the first apparel retailer to implement a Results Only Work Environment (or ROWE), in which employees can work wherever they want, whenever they want, as long as their work gets done. Gap Inc. Outlet's success in engaging and retaining its workforce through its people strategies has been documented in HR Magazine, Business Week, and the Corporate Leadership Council Best Practices­ as well as in the books Why Work Sucks and What to Do About It and Future Work. A cover story on Outlet's ROWE experiment was published in HR Executive Magazine in August 2010.   
Eric's other contributions since joining Gap Inc. in 2000 include starting the Gap Inc. Diversity Council, launching the Gap Inc. Diversity department, and leading the re-development of the company's Flexible Work Arrangement policy.
Before joining Gap Inc., Eric spent eight years at Macy's in various HR and store operations leadership roles.
Eric's "other job" Director on the Board of the Felton Institute, San Francisco's oldest and largest non-sectarian non-profit. In his 11 years on the Board, Eric has held the positions of Board Chair, Vice Chair, Secretary, and HR Committee Chair. In his leadership roles at Felton, Eric has partnered with the Agency in the development and implementation of a robust people strategy that includes an annual CEO evaluation process, employee engagement survey, leadership competencies, a talent review and succession planning process, 360 degree evaluations, and management training. In 2008, Eric and Board colleagues Amy Solliday and Paul Adams won the Gap Inc. Founder's Award for their work with Felton's breakthrough early psychosis prevention and recovery program, PREP.
Eric, who resides in San Francisco, holds a B.A. in English from Pennsylvania State University and an M.A. in English from Arizona State University.