National Advisory Council on Innovation and Entrepreneurship (NACIE) Board
Chad Womack, Ph.D.

National Director, STEM Initiatives at the UNCF; Philadelphia, PA, and Washington, DC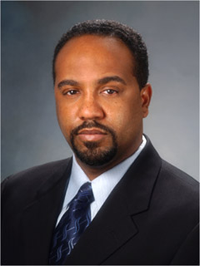 Dr. Chad Womack is the National Director of STEM Initiatives at the UNCF headquartered in Washington, D.C. Dr. Womack's work portfolio includes the UNCF Merck Fellowship Program, UNCF STEM Scholars Program and the HBCU Innovation, Commercialization and Entrepreneurship (ICE) Initiative. More recently, Dr. Womack led the sourcing, development and implementation of the UNCF STEM Scholars Program representing a $48M+ and 10-year commitment to support 500 academically talented African-American high school students pursuing STEM as majors in college and careers in the tech-industry.
Prior to joining the UNCF, Dr. Womack co-founded The America21 Project and DC Innovates, both innovation-based community and economic development nonprofit organizations dedicated to empowering metro-centers and underserved communities through STEM education, tech-entrepreneurship and access to capital. Dr. Womack also founded the Philadelphia Biotechnology and Life Sciences Institute as a nonprofit initiative dedicated to addressing unmet educational and workforce development needs of the City of Philadelphia, and is a Co-Founder of 3GEN Vaccines a nano-biotechnology company. Prior to his entrepreneurial ventures, Dr. Womack completed several research fellowships at the National Institutes of Health (NIH), in the National Institutes for Allergy and Infectious Diseases (NIAID) Vaccine Research Center (VRC) and at the Harvard AIDS Institute and the Harvard School of Public Health in the Department of Immunology and Infectious Diseases. Dr. Womack earned his Ph.D. in Biomedical Sciences from the Morehouse School of Medicine, and is a proud graduate of Morehouse College where he was a Biology and Chemistry major. Dr. Womack resides with his family in his home city of Philadelphia, PA.