National Advisory Council on Innovation and Entrepreneurship (NACIE) Board
Eric Toone, Ph.D.

Vice Provost & Director, Innovation and Entrepreneurship at Duke University; Durham, NC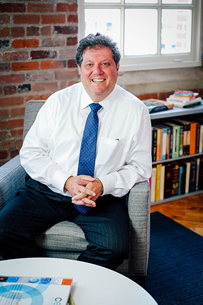 Dr. Eric Toone received his doctoral degree in Chemistry from the University of Toronto in 1988 and completed post-doctoral studies with Professor George Whitesides at Harvard University. He began his independent career at Duke in 1990, and is currently Professor of Chemistry and Professor of Biochemistry. Professor Toone has authored over 220 original papers, reviews, book chapters and abstracts in physical organic and biophysical chemistry. He is also listed as an inventor on more than 20 patents in a range of biomedical fields and is a scientific founder of three research-based pharmaceutical companies, Aerie Pharmaceuticals, a publically-traded ophthalmology (glaucoma) company, Vindica Pharmaceuticals, focused on the therapeutic administration of nitric oxide, and Valanbio Therapeutics, developing novel antibiotics for Gram-negative organisms. From 2009 to 2012 Professor Toone was detailed to the US Department of Energy's Advanced Research Projects Agency – Energy (ARPA-E). During that time, he served both as Program Director and Deputy Director for Technology before leading the Agency in 2012. Professor Toone returned to Duke in 2013 and is Vice Provost and Director of the Duke University Innovation and Entrepreneurship Initiative, an initiative designed to foster entrepreneurship across the entire university community.