National Advisory Council on Innovation and Entrepreneurship (NACIE) Board
Rebecca Bagley

Vice Chancellor Economic Partnerships at University of Pittsburgh; Pittsburg, PA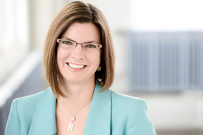 Rebecca O. Bagley serves as Vice Chancellor for Economic Partnerships at the University of Pittsburgh. The Office of Economic Partnerships is responsible for creating and implementing a University-wide economic development strategy that aligns the goals, external opportunities, incentives, and operational capacity in a way that enhances Pitt's mission.
Rebecca was formerly the President and Chief Executive Officer of NorTech, a technology-focused organization that worked to strengthen Northeast Ohio's economic vitality by accelerating the pace of innovation in the region. NorTech used its expertise in emerging industries to foster an innovation environment and drive development in advanced energy, flexible electronics and water industries.
Prior to joining NorTech, Rebecca was Deputy Secretary for the Technology Investment Office of the Pennsylvania Department of Community and Economic Development (DCED). She previously served as Director of the Venture Investment for DCED and managed venture and real estate investment programs. Before joining DCED, Bagley worked for several investment banks, most notably JPMorgan Chase in New York City.
Rebecca holds a BS from the University of Colorado at Boulder. She and her husband John, a woodworker, live in Pittsburgh with their two daughters.