National Advisory Council on Innovation and Entrepreneurship (NACIE) Board
Stephen Tang, Ph.D., MBA (Co-Chair)

President & CEO at University City Science Center; Philadelphia, PA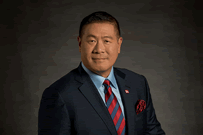 Steve Tang became President and CEO of the University City Science Center, the nation's oldest and largest urban research park, in 2008. Dr. Tang is the first president in the Science Center's history to have not only led a company through venture funding and an initial public offering, but to also serve as a senior executive with a large life sciences company as it acquired and integrated smaller start-ups.
In 2014, U.S. Commerce Secretary Penny Pritzker appointed Dr. Tang to the National Advisory Council on Innovation and Entrepreneurship (NACIE). Previously, Tang served on the U.S. Department of Commerce's Innovation Advisory Board.
Dr. Tang also serves on several state-wide, regional and local Boards of Directors. He chairs the Board of Directors of the Committee of Seventy, the Philadelphia region's good government advocate, and along with Pennsylvania Governor Tom Wolf co-chairs the Team Pennsylvania Foundation, which bridges the gap between government and the private sector.
Dr. Tang earned a doctorate in Chemical Engineering from Lehigh University, an M.B.A. from Wharton School of Business at the University of Pennsylvania, and a B.S. in Chemistry from the College of William and Mary.