STEM Talent Challenge

The U.S Economic Development Administration's STEM Talent Challenge aims to build STEM talent training systems to strengthen regional innovation economies. The FY23 STEM Talent Challenge will award a total of $4.5 million in grants to organizations that are creating and implementing STEM talent development strategies that complement their region's innovation economy.  The FY23 STEM Talent Challenge application window has closed. EDA is no longer accepting applications for this funding opportunity. 
Projects should aim to identify opportunities in high-growth potential sectors, and to expand and empower the innovation economy workforce, including by:
Engaging regional entrepreneurs, innovators, and the organizations that support them to assess and forecast current and future talent needs and to develop collaborative solutions with work-based programs;
Building highly skilled talent and connecting it to highly technical opportunities that foster professional development and provide continuing advanced skills training to develop the technical and scientific workforce that regional innovation initiatives need;
Strengthening collaboration among entrepreneurs, industry leaders and employers, educational organizations, established corporations, economic and/or workforce development organizations, and the public sector to enable better access to skilled workers and to develop demand-driven workforce pipelines for the innovation economy; and
Placing new employees into immediate job openings with regional employers in need of STEM talent.
Competition applicants may request up to $500,000 for implementation of a 24-month program. A 1:1 funding match is required.
View the FY23 STEM Challenge grantees here.
The STEM Talent Challenge is authorized under Section 28 of the Stevenson-Wydler Technology Innovation Act of 1980 (15 U.S.C. § 3723).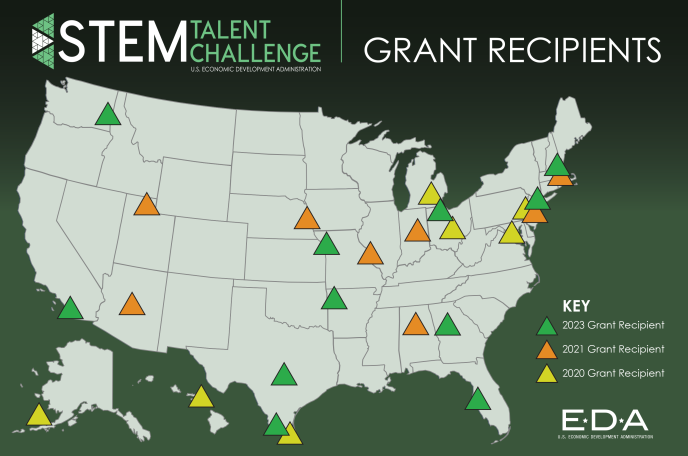 Applicant Resources
Updates
Join the conversation on social media using the hashtag #STEMTalentChallenge
To stay up-to-date on the latest innovation and entrepreneurship program news, including announcements of any future funding opportunities, please sign up for EDA's newsletter.