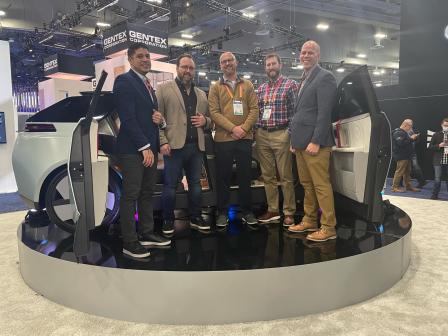 EDA Helps Incubate Next Generation Technology in Georgia
EDA is helping create the cities of tomorrow, today. Curiosity Lab is a technological business incubator and living laboratory in Peachtree Corners, Georgia. It provides a test environment for more than fifty local businesses to advance smart city technology and next-generation intelligent mobility.
The lab was founded in 2019 to drive business growth within the city. While colleges and universities such as Georgia State and the Georgia Institute of Technology offer advanced education, graduates would often leave the state in search of employment. Curiosity Lab was created to fill that need for high-tech jobs.
"Economic development is a stool with four legs – recruitment, retention, expansion, and job creation," said Brian Johnson, Vice Chair, Curiosity Lab. "One of the ways you create jobs is through a business incubator, and we found ourselves in a unique position to develop one."
The city was already home to Technology Park Atlanta, first founded in the late 1960s. Johnson and city officials realized they could expand upon the park's existing technological ecosystem for use as a living laboratory.
Peachtree Corners is well recognized as one of America's leading smart cities, building a cleaner, greener environment for residents. It owns the street and the infrastructure, which includes cameras, traffic signals and other sensors, and it also provides next-generation connectivity in a 5G wireless environment.
Peachtree Corners started by updating the park's infrastructure to make it a more enticing location and providing space to local technology start-ups. The project quickly proved itself to be a success, and they soon realized they would need to expand.
In 2018, officials turned to the Economic Development Administration (EDA), who provided a $1.8 million grant through its Economic Adjustment Assistance program. The grant enabled Curiosity Lab to purchase and renovate the building, creating classroom, laboratory, and office space. It offers 25,000 square feet spanning a 500-acre innovation ecosystem.
Curiosity Lab is now home to a variety of industrial sectors, including agriculture, construction, software development, and green technology. One tenant attracted to Curiosity Lab was Intuitive Surgical, which produces minimally invasive surgical technology. Its presence at Curiosity Lab has led to the creation of more than 1,500 local jobs.
In addition to local startups, several corporations have set up shop as well, including T Mobile, UPS, and Bosch, all helping to drive the region's innovation economy. Tenants are making advances in such areas as electric vehicle charging, hemoglobin study, and the development of underground hyperlogistics – an emerging industry that moves goods through a network of underground tubes.
"The EDA grant has allowed us to be flexible, a necessity in the world of start-ups," said Brandon Branham, Curiosity Lab's Executive Director/Chief Technology Officer. "It has enabled us to support the advancement of our innovation ecosystem exponentially, outpacing our own expectations on job growth. We're hoping to purchase the building next door and increase our capacity."
Looking ahead, Branham says the lab will continue to foster relationships with universities and high schools. It will also adapt to support some of its newer partners, as it takes its first steps towards becoming an international park. Curiosity Lab is already home to businesses from Canada and Portugal, and is currently the host site for La French Tech, a program started by the French government.
For more EDA innovation and entrepreneurship success stories, please visit eda.gov.