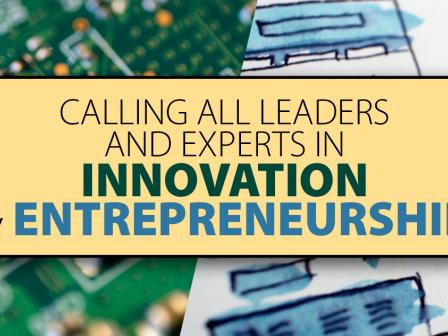 National Advisory Council on Innovation and Entrepreneurship (NACIE) Seeking Applicants
The U.S. Department of Commerce is seeking applicants for the National Advisory Council on Innovation and Entrepreneurship (NACIE). NACIE advises the U.S. Secretary of Commerce on how the federal government can best accelerate innovation and catalyze technology entrepreneurship to grow economic prosperity equitably. The deadline to apply is 5:00 p.m. Eastern Daylight Time (EDT) on October 25, 2021.
Click here for details, including how to apply.
NACIE is charged with identifying and recommending solutions to drive the innovation economy, including growing a skilled STEAM workforce and removing barriers for entrepreneurs ushering innovative technologies into the market. The council also facilitates Federal dialogue with the innovation, entrepreneurship, and workforce development communities.
The Secretary seeks advice from NACIE on:
diversifying and growing America's innovation clusters and technology hubs in regions outside of traditional coastal markets;
supporting economic growth, resilience, high-growth entrepreneurship and innovation across business sectors and geographies through policy and program vehicles such as the American Jobs Plan and the American Rescue Plan;
increasing equitable access to and representation in entrepreneurship opportunities for historically excluded populations, communities, and geographies;
increasing American innovation and competitiveness in industries of the future like artificial intelligence, biotechnology, advanced computing, advanced materials and manufacturing, cybersecurity, and clean technology;
developing and expanding successful talent and workforce development initiatives that create high quality jobs and that support American innovation and competitiveness; and
identifying and promoting best practices that accelerate the commercialization of research and intellectual property.
Throughout its history, NACIE has presented recommendations to the Secretary of Commerce along the research-to-jobs continuum, such as increasing access to capital, growing and connecting entrepreneurial communities, fostering small business-driven research and development, and understanding the workforce of the future. Several of these recommendations have been implemented through legislative action, federal grant programs, or Commerce-led research and have spurred action and collaboration between the public and private sector.
The Commerce Department will ensure that NACIE's membership is balanced and diverse. NACIE members include, but are not limited to, business executives, entrepreneurs, innovators, investors, post-secondary education leaders, directors of workforce and training organizations, and other experts drawn from industry, government, academia, philanthropic foundations with a demonstrated track record of research or support of innovation, entrepreneurship, or workforce development, and non-governmental organizations.
Click here to see past NACIE members.
NACIE members will serve two-year terms at the discretion of the Secretary. Appointed as experts, members will be considered special government employees (SGEs).
Applications must be submitted via email to nacie@doc.gov with "NACIEApplication" in the subject line. Click here for details, including how to apply.
NACIE is a federal advisory committee established by section 25(c) of the Stevenson-Wydler Technology Innovation Act of 1980, as amended (15 U.S.C. § 3720(c)) and is managed by EDA's Office of Innovation and Entrepreneurship (OIE).
For more about NACIE, visit our National Advisory Council on Innovation and Entrepreneurship (NACIE) site.