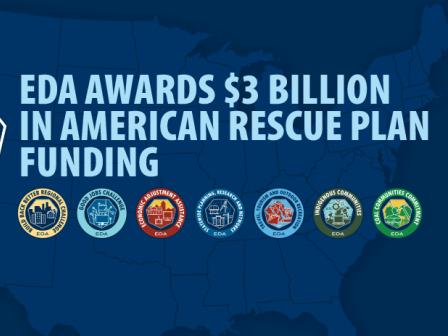 EDA Awards $3 Billion in American Rescue Plan Funding for Transformative Economic Development Projects Across the Country
In March of 2021, President Biden signed the American Rescue Plan into law. This historic legislation was designed to enable American communities to respond to and recover from the impacts of COVID-19. In the American Rescue Plan, Congress allocated an unprecedented $3 billion to the Economic Development Administration (EDA) in supplemental one-time funding and required EDA to disburse all awards by September 30, 2022, in order to meet the urgent needs of American communities. This notable economic development opportunity required EDA, its partners, and most importantly, leaders across the entire economic development community, to take transformational and expeditious action.
With deep gratitude to its partners, industry, and communities across the country, EDA is proud to share that across 780 grants awarded through six innovative programs, EDA has completed $3 billion in transformational American Rescue Plan investments.
Click here to view a state-by-state map of all American Rescue Plan projects
Overall, EDA was inspired by the creative, innovative and collaborative approaches outlined across the 780 American Rescue Plan awardees. Together, communities, industry leaders, state and local officials, non-profits, universities and community colleges, along with economic and workforce development organizations rose to the occasion to maximize this tremendous investment opportunity for the nation's economy. The funding enabled EDA to assist communities nationwide in their efforts to build back better by accelerating the economic recovery from the coronavirus pandemic and building more resilient local economies able to weather future economic shocks.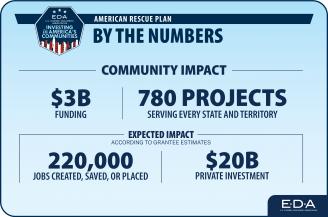 Projects focused on three key areas – preparing communities to drive their own economic future, strengthening global competitiveness of local economies, and supporting recovery and resiliency in regions across the country. A top priority across the programs was equity and as a result, more than 70 percent of the competitive grants are expected to directly impact underserved and historically underinvested communities.
Click here for the American Rescue Plan Fact Sheet (PDF)
To efficiently distribute the funds, EDA increased its staff to build capacity, conducted outreach and engaged many first-time grantees in underserved communities and partnered with communities to develop place-based projects to meet communities where they are and leverage the strengths of their region. EDA is honored to support these 780 grantees as they work to transform their regional economies, create jobs, support entrepreneurship, and pave the way towards a new and promising economic future.
EDA's American Rescue Plan grant programs include:
Additionally, when the American Rescue Plan programs were launched in 2021, EDA committed $300 million to American coal communities through its Coal Communities Commitment. We are pleased to share that we exceeded the commitment and awarded $552 million to coal communities.
Click here for the Coal Communities Commitment Fact Sheet (PDF)
EDA looks forward to continuing to partner with its American Rescue Plan awardees and is committed to working hand-in-hand with these grantees as they execute their projects. Through its Communities of Practice and other technical assistance programs, EDA will ensure the continued success of its grantees and the benefits they will bring to their communities.
EDA received tremendous demand for all six programs, with $15.8 billion in proposals for the $3 billion in available grant funding. The bureau thanks all organizations who submitted an application or helped spread the word about funding opportunities.
For those who did not receive American Rescue Plan awards, EDA has many other grant opportunities. Our annual appropriations support ongoing programs such as Build to Scale, STEM Talent Challenge, Public Works, Economic Adjustment Program, National Technical Assistance and University Centers. For more about these programs, visit: https://eda.gov/funding/programs/.
For more about EDA's American Rescue Plan investments, click here for an FAQ.
To speak with EDA, reach out to your local regional office. Click here for their contact information.