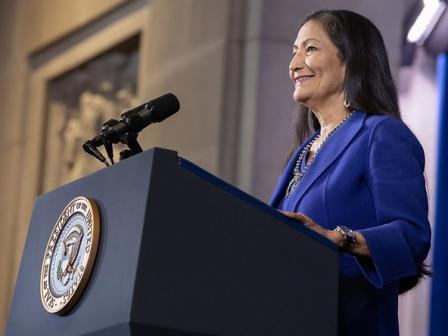 EDA and its Federal Partners Celebrate Native-American Heritage Month 2022
This November, the White House, the Department of Commerce and EDA hosted a series of events in honor of Native-American Heritage Month, welcoming Tribal leaders to Washington, DC. President Joe Biden kicked off the celebration, issuing a proclamation upholding America's commitment to our Tribal nations, just one month after announcing a new Tribal Advisor position in the Office of Management and Budget.
On November 15th, First Lady Dr. Jill Biden and Secretary of the Interior Deb Haaland hosted a reception at the White House. They welcomed Tribal representatives and offered remarks in commemoration of the monthlong event.
As November came to a close, Tribal leaders from across America came to Washington for the 2022 White House Tribal Nations Summit. This two-day event provided an opportunity to engage with officials from the Biden-Harris Administration, who announced key policy initiatives to support Tribal communities. The President offered his remarks on the event, while Gene Sperling, Senior Advisor to President Biden and Implementation Coordinator of the American Rescue Plan, presented EDA's American Rescue Plan numbers during a panel discussion.
The two-day White House Tribal Nations Summit welcomed Indigenous representatives from across the country for panel discussions, meetings with federal leadership, and ceremonies honoring Native-American Heritage Month.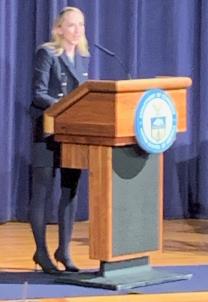 In conjunction with the summit, the U.S. Department of Commerce and EDA hosted a series of related events, including the Tribal Nations Open House on November 29th. Tribal leaders met with the Department's leadership team, including Secretary Gina Raimondo, who provided information on departmental priorities in Tribal America. EDA's Mara Campbell, Acting Chief of Staff and Senior Advisor, provided bureau updates in support of this endeavor.
Bureau representatives from across the department were also on hand to discuss specific issues of interest to Tribal leaders. During these sessions, EDA was represented by Carolee Wenderoth, Tribal Engagement Coordinator, and Ernest Weston, Tribal Economic Development Representative for the Denver Regional Office.
Then on December 2nd, EDA conducted the Indigenous Communities Virtual Roundtable. Alejandra Castillo, Assistant Secretary of Commerce for Economic Development, provided opening remarks for this event, which was moderated by Carolee Wenderoth.
The roundtable included a discussion with Ellen White Thunder, Asset Development Specialist of Lakota Funds, and Lakota Vogel, Executive Director of the Four Bands Community Fund. They discussed recent EDA investments in their communities as well as their plans going forward. Shaun Deschene, who was recently sworn in as Director of the Department of Commerce's Office of Native American Business Development, provided closing remarks for this event.
For more information on the Department's Native-American Heritage Month activities, please visit commerce.gov.