Alejandra Y. Castillo
Assistant Secretary of Commerce for Economic Development
Alejandra Y. Castillo's first lessons about business came as a child. She rose at 4 a.m. to help her father run his bodega in the Bronx and refined her math skills by calculating sales tax for her mother's Avon business.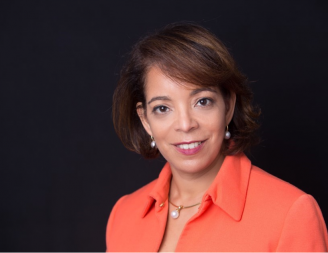 Throughout her career and life, Castillo has sought to build bridges and help others. She was the first in her family to learn English, which she did with the help of PBS shows like Sesame Street and The Electric Company. Like many immigrant children, she was tapped to help her family and community navigate life in America. She accompanied non-English speakers to appointments and helped neighbors translate letters from their landlords or the Social Security Administration.
As an adolescent, she was always trying to help others. Her father died when she was 13, which thrust her further into a "problem solver" role. Castillo is a relentless visionary and change maker dedicated to building community-based solutions that advance individual empowerment.
The eldest child of immigrants from the Dominican Republic, Castillo is the first woman of color to be appointed Assistant Secretary of Commerce for Economic Development. In this role, she leads the U.S. Economic Development Administration (EDA) and is responsible for fulfilling the bureau's mission of leading the federal economic development agenda.
The New York City native has served in leadership positions under three presidential administrations – Presidents Biden, Obama, and Clinton. Castillo's professional career spans two decades in Washington, D.C. Her work has focused on creating equitable and inclusive opportunities for all Americans.
Castillo considers herself an embodiment of the American Dream. Her personal experiences of helping her parents run small businesses to support her family have given her a unique perspective and fuels her determination to create transformative change.
When she was 11-years old, she moved from New York to the Dominican Republic – just after Category 5 storm Hurricane David hit in 1979. Her family set up an import-export business, and once again, she got a first-hand glimpse at entrepreneurial grit through trips to the ports with her father where products were shipped to the U.S.
After briefly living in Portugal, Castillo returned to the United States. She earned her bachelor's degree in economics and political science from the State University of New York at Stony Brook, becoming the first in her family to complete a university degree. Her 1992 college graduation occurred against the backdrop of tectonic shifts in American civil rights, highlighted by that year's landmark decision in Kentucky v. Wasson, and the shooting of Yoshihiro Hattori. Drawing inspiration from the achievements and setbacks of that year, Castillo committed to a life of public service, joining the Senate Labor and Resources Committee staff where she worked under Senator Ted Kennedy before leaving to earn a master's degree in public policy at the University of Texas.
During the Clinton Administration, she served as a Senior Policy Analyst to the Deputy Director of the White House Office of National Drug Control Policy, where she was responsible for developing and analyzing White House initiatives on anti-drug trafficking and interdiction, anti-money laundering policies, and drug prevention and treatment programs.
In 2001, Castillo left government employment but not public service. Continuing her lifelong commitment to transformative change, she applied – and was accepted – to American University's Washington College of Law, receiving her Juris Doctor in 2004. She went on to serve as the executive director of the Hispanic National Bar Association (HNBA), where she was instrumental in working with the White House and non-profit organizations like Latinos for a Fair Judiciary in support of the nomination and confirmation of Supreme Court Justice Sonia Sotomayor.
Her current role with EDA brings her back to the Department of Commerce, an agency she first joined in 2008 as a Special Advisor to the Under Secretary for the U.S. Department of Commerce's International Trade Administration (ITA). In this capacity, she was responsible for business outreach and intergovernmental affairs and assisting in the development of policy initiatives geared at trade promotion and enforcement of U.S. trade laws.
In 2014, Castillo was appointed by President Obama to serve as the national director of the Commerce Department's Minority Business Development Agency (MBDA), becoming the first Hispanic woman to lead the agency. Her work at MBDA was tremendously rewarding and close to her heart, as her father was a minority business owner.
During her tenure, she led MBDA's efforts to boost the growth and global competitiveness of minority business enterprises (MBEs). Under her leadership, MBDA expanded its effort to help MBEs gain access to capital, contracts, and business opportunities. Before her appointment as director, she served as MBDA's national deputy director, managing day-to-day operations and its network of 44 business centers.
Immediately prior to President Biden appointing her to lead the EDA, Castillo was the Chief Executive Officer of YWCA USA, where she championed the 163-year-old organization and its 204 associations serving over 2.3 million women and families across 1,300 communities in the United States. YWCA's mission is to eliminate racism and empower women.
Castillo is an active member in various civic and professional organizations, including the Hispanic National Bar Association, Hispanic Bar Association of the District of Columbia, American Bar Association, and American Jewish Committee. She also serves as a Board Trustee for the University of the District of Columbia. In 2010, Hispanic Business Magazine recognized Castillo among the Top 100 Influential Latinos in the U.S. She received the 2010 Rising Star Award by the Hispanic Bar Association of the District of Columbia.
Castillo has ten nieces and nephews, two of whom she is raising, leading the next generation of trailblazing entrepreneurs. She believes the economy does not function without women fully participating in the workforce and, through hard work and perseverance, continues to advocate as a strong Hispanic female role model.