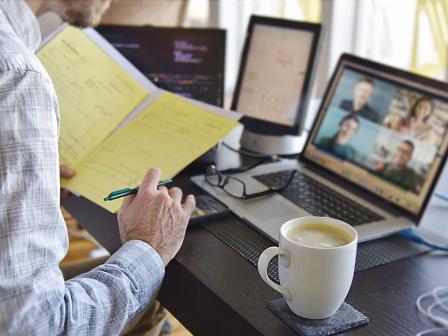 EDA Brews a Sense of Community with Tribal Stakeholders
In 2022, Ernest Weston, Jr. joined EDA as the first Tribal Economic Development Representative. Working out of the Denver Regional Office, he soon began looking for unique ways to engage local Tribal stakeholders. In doing so, Weston recognized the need to create community in the meaningful work of Tribal Economic Development.
That March, Weston and his colleague Caleb Seeling began conducting a series of virtual coffee hours. These sessions offer Tribal grantees and representatives a place to connect and share their ideas.
"Having a space to share best practices – that's where innovation comes from," Weston said.
The sessions began as a free forum and the dialogue came organically. They have fostered a sense of camaraderie among the participants, who help one another answer questions that are common among Tribal grantees.
Most recently, Weston and Seeling have invited EDA's federal partners to participate. On a recent call, representatives from the U.S. Department of Energy discussed their $20 billion Tribal Energy Loan Guarantee program, which emphasizes renewable energy. During another session, representatives from the Bureau of Indian Affairs discussed the many services they offer Tribal nations. Looking forward, Weston plans to invite the U.S. Department of Agriculture's Rural Development program as well.
Since the sessions began, EDA has continued its outreach efforts to Tribal stakeholders and perspective grantees. In the summer of 2022, the bureau supported creation of the Indigenous Economic Development Community of Practice (CoP), which was designed to increase access to federal resources across Indigenous communities.
"Prior to these sessions and the CoP, there was great need among the Tribes to identify other resources to fill the gaps in their funding," Weston recalled. "The virtual coffee hours have provided an excellent forum for collaboration among EDA, it's Tribal stakeholders and other federal agencies."
The virtual coffee chats are conducted on the first working Monday of the month, at 1:00pm Mountain Time. For more information or to participate, please email eweston@eda.gov.