EDA's Build Back Better Regional Challenge Helps Coalition Redefine the Future for West Virginia's Coal Country
The Appalachian Climate Technologies Coalition (ACT Now Coalition) is a prime example of how regional collaboration and locally-driven economic development efforts are key components of sustainable, regional economic growth. Selected as one of twenty-one Phase 2 finalists for the American Rescue Plan's Build Back Better Regional Challenge (BBBRC), the ACT Now Coalition is dramatically expanding on more than a decade of momentum.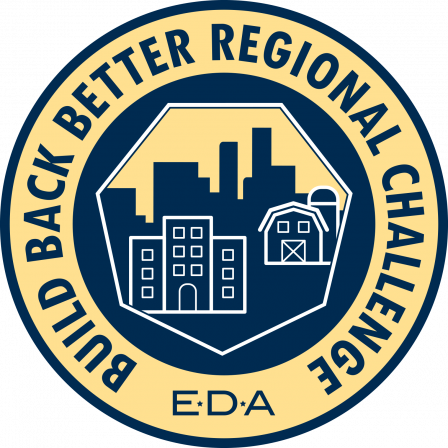 The coalition, led by the non-profit Coalfield Development Corporation, is comprised of a variety of state, local, and non-profit organizations and was officially launched on February 7, 2022, as a BBBRC applicant.
Collaboration has long been a priority for Brandon Dennison, a West Virginia native who founded Coalfield Development in 2010. As CEO, he spearheaded Coalfield's BBBRC participation, having already established regional partnerships with local investment groups, including the Just Transition Fund, the Claude Worthington Benedum Foundation, and Bloomberg Philanthropies. That is just the beginning of their achievements.
"During the Obama Administration, there was a program called POWER: Partnerships and Opportunities for Workforce and Economic Revitalization," Dennison recalls. "This increased grant funding for the Appalachian Regional Commission and other federal agencies to support transitioning coal communities. It enabled a first chapter of scaling for on-the-ground models that were really working. BBBRC just took that foundation to a whole new level."
He's right: the Biden Administration's American Rescue Plan and current Investing in America agenda is building upon previous foundations to strengthen regional economies like never before.
The coalition has a transformative vision for the state's economy, one historically reliant on coal production. As such, it shares a number of EDA's core investment priorities, including Equity, Recovery & Resilience, Workforce Development, Manufacturing, and Environmentally Sustainable Development. As noted in the coalition's applicant narrative, Coalfield is "community-based" and "equity-focused," two priorities that Brandon and leadership are determined to maintain.
"Embedded in all these efforts is a commitment to support local workers who have been marginalized," Brandon notes, pointing out that over half of trainees are in recovery from Substance Use Disorder, and approximately a quarter are justice-involved. "We use a 33-6-3 model to support participants each week: 33 hours of paid work, 6 hours of higher education at the community and technical college, and 3 hours of human development aimed at identifying and overcoming barriers."
Coalfield and the coalition aren't just investing in West Virginia – they're investing in its people. "We start with the most marginalized and build out from there," says Brandon. "This runs counter to many traditional projects…To a large extent, minorities in rural areas are the marginalized of the marginalized. ACT Now seeks to change that through intentional commitment to equity, including voting roles on the coalitions for members of marginalized communities."
A perfect example of a tangible Coalfield project is the Learning, Innovation, Food, and Technology (LIFT) Center, located in Charleston. Constructed in the early 20th century to build rail cars to transport coal, the once-bustling factory has now fallen into disrepair. ACT Now will turn the space into a Green Battery Institute (in partnership with Marshall University) and an Electric Vertical Take-Off and Landing facility, as well as an opportunity for renewable energy expansion and a regenerative agriculture social enterprise. All of these efforts, Brandon notes, will reshape the factory's future and make it a "true symbol of this transition away from fossil fuels and toward climate technology."
Coalfield has taken its own values – Gumption, Grit, and Grace – and applied them not only to their work, but to their leadership of the coalition as a whole. It's an approach that coalition members have embraced as well.
"We've really pushed the coalition to move fast, keep tangible, and be bold," says Brandon, comparing ACT Now to a flock of geese, working together toward a common goal.  "We've all seen that beautiful V-formation. It is truly incredible how far they can travel together once they get airborne as a team."
Learn more about EDA's work building coalitions that strengthen regional economies at https://www.eda.gov/.