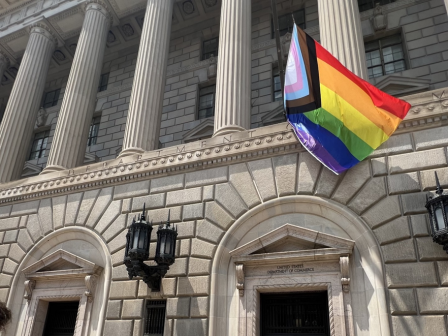 BLOG | EDA Celebrates Pride
Pride Month — observed each June — is both a celebration of progress for LGBTQI+ rights, and an opportunity to raise awareness of persistent challenges to those rights. President Biden's proclamation on Lesbian, Gay, Bisexual, Transgender, Queer, and Intersex Pride Month recognizes it as a time to "honor a movement that has grown stronger, more vibrant, and more inclusive with every passing year."
At the Economic Development Administration (EDA), Pride Month is also a time to reflect on economic disparities faced by the LGBTQI+ community and collectively imagine ways those disparities can be overcome. For instance, the Human Rights Campaign found that more than half of America's LGBTQI+ workforce remains "in the closet," with the primary reason being uncertainty about changing attitudes and national policies.
And yet, despite the challenges, LGBTQI+ Americans are an economic force with which to be reckoned. According to the National LGBT Chamber of Commerce, LGBTQI+ entrepreneurs contribute more than $1.7 trillion to the US economy every year and create tens of thousands of jobs.
EDA's mission of driving economic prosperity and advancing Americans' growth and success in the worldwide economy, coupled with its commitment to prioritize equity, places it in a unique position to mitigate economic inequalities experienced by the LGBTQI+ community. Recently, EDA has taken measurable actions to support the nation's LGBTQI+ entrepreneurs and workforce:
Developing Strong Economies.

During FY2022, EDA invested more than $433 million in the three states that are home to

the nation's largest LGBTQI+ metro areas

per capita: California, Oregon, and Texas. Support awarded through these grants is going to strengthen and bolster local economic ecosystems, creating the conditions needed for quality jobs and quality of life.

Pride Plaza.

EDA made a $1.3 million grant to Portland, Oregon to support construction of a new 32,000 square foot park called Pride Plaza.

Pride Plaza will be an LGBTQI+ friendly gathering space with street art, public seating, community activities, and expanded space for local businesses. The plaza will complete the city's "Green Loop" pedestrian corridor development project. The project is expected to create or retain 289 jobs and generate $1.9 million in private investment, according to grantee estimates.

Knowledge Sharing

.

Through a 

$5.5 million grant to the New Growth Innovation Network

, EDA launched Equity Impact Investments, a program focusing on creation and delivery of training tools that disseminate knowledge of best practices in economic development for underrepresented populations, including the LGBTQI+ community.

Internal Advocacy.

Within EDA, regional and headquarters staff are participating members of

Commerce Pride

, a strategic partner with the Department of Commerce that promotes cultural awareness and inclusion for Lesbian, Gay, Bisexual, Transgender, Queer, and Questioning employees through continual learning, networking, advocacy, and knowledge sharing.
"The United States' LGBTQI+ community has been a force multiplier for the American economy but simultaneously faces systemic challenges in realizing the full scope of its own potential," said Assistant Secretary of Commerce for Economic Development Alejandra Y. Castillo. "I'm proud to ally with EDA's LGBTQI+ employees in highlighting the vital contributions this community has made to the promise of American prosperity, while exploring new ways we can cooperatively advance its civic and economic wellbeing."
Follow EDA on Twitter, Facebook, Instagram, and LinkedIn throughout the next month for updates on EDA observances and activities in celebration of Pride Month.