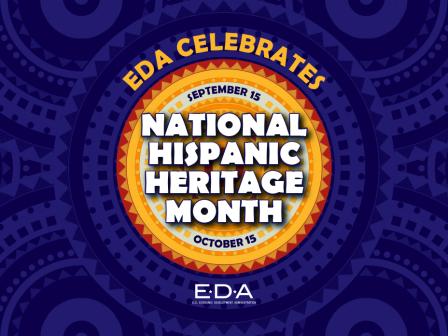 EDA Celebrates National Hispanic Heritage Month
"I'm proud to join EDA staff and stakeholders celebrating National Hispanic Heritage Month. Investing in America means investing in Hispanic Americans!"
 - Alejandra Y. Castillo, Assistant Secretary of Commerce for Economic Development
Education and capital are keys to unlocking the doors of prosperity. But, for many members of Hispanic American communities, access to these basic tools of economic empowerment have been limited by institutional inequities.
According to the U.S. Census Bureau's 2021 Survey of Income and Program Participation, approximately one out of every three U.S. residents of Hispanic origin lived in a household that experienced material hardship in 2020, a number nearly 35 percent greater than that experienced by the non-Hispanic population. 
And yet, despite both social and economic barriers, Hispanic Americans are a critical part of the American economy.  Hispanic-owned employer firms account for more than 40 percent of all minority-owned employer businesses in the United States, contribute over $400 billion in U.S. economic output annually, and produce almost 3 million jobs per year.
Hispanic Americans are vital to the American economy and they have EDA's support.
During this year's National Hispanic Heritage Month, EDA is celebrating the dynamic contributions of Americans of Hispanic origin to the U.S. economy, while also recommitting itself to ensuring the promise of American prosperity is equitably realized through strategic investments in projects that bridge the workforce development and capital investment needs of Hispanic employees and entrepreneurs.
Recent EDA initiatives include:
Follow EDA on Twitter, Facebook, and LinkedIn for updates on EDA observances and activities in celebration of National Hispanic Heritage Month.