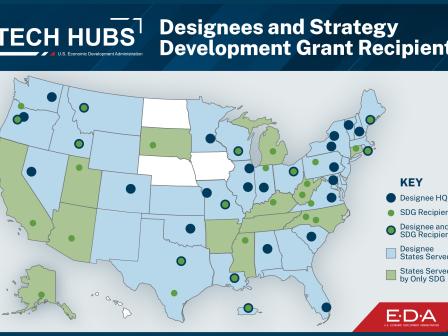 Tech Hubs Designation Supported by Entire Biden-Harris Administration
With the designation of 31 inaugural Tech Hubs on October 23, 2023, EDA sent a strong signal about a region's ability to position itself as a global competitor in a critical technological area, such as semiconductors, clean energy, critical minerals, biotechnology, precision medicine, autonomous systems, quantum computing, and more. We believe that these 31 regions across the country have the assets, resources, and capabilities to become global centers of innovation and job creators with this boost of attention and resources from the federal government.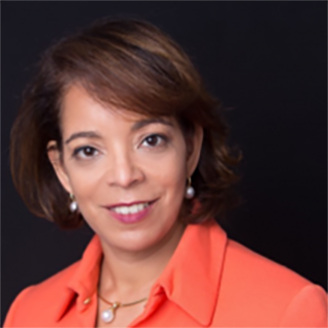 The 31 Tech Hubs will not only partner with EDA to achieve success, but also benefit from an unprecedented whole-of-government approach to supporting the tech economy and national security that includes support, guidance, and additional funding opportunities from a vast array of federal agencies. 
The Tech Hubs program is a critical component of President Biden's Investing in America agenda, catalyzing investment in technologies critical to economic growth, national security, and job creation. The program brings together federal agencies to ensure that not only are the government's programs aligned, but they complement and mutually reinforce each other. Thanks to the leadership of the Biden-Harris Administration, Tech Hubs designations are an indicator to investors that this region is primed for success and ready for investment.  
In 2022, the CHIPS and Science Act authorized the Tech Hubs Program at $10 billion dollars. EDA has received $500 million – or 5 percent – of that authorized amount. The demand for this program is apparent as EDA received nearly 400 Tech Hubs applications for this first round. Securing the fully authorized program budget would allow the Tech Hubs Program to deepen and expand its impact beyond only those selected in this phase. 
Benefits of a Tech Hubs Designation 
The Tech Hubs designation means more than just the tremendous visibility it brings to a region and the opportunity to apply for implementation funding from EDA.  
Tech Hubs Designees will be given preference in future rounds of EDA's Build to Scale program, and distressed communities within Tech Hubs regions will be given higher consideration for other EDA funding opportunities. Our government-wide commitment to equity will help center underserved and underrepresented communities in the development of these opportunities. 
Additional U.S. Government Departments and Agencies are using their expertise, strengths, and funding opportunities to provide regions with a suite of benefits to support growth in their key technology area and development of regional infrastructure, such as housing and transportation, in anticipation of expected economic growth. 
For example, the U.S. Department of Agriculture (USDA) will work with Tech Hubs to ensure rural communities can benefit and engage with Tech Hubs. The U.S. Department of Housing and Urban Development will support Designees in long-term housing planning. The U.S. Small Business Administration will provide technical assistance to increase private investment in small businesses in Tech Hubs regions, and the U.S. Department of Transportation will provide strategic guidance for its relevant grant programs. 
Designees will have direct access to a Tech Hubs ambassador at the U.S. Patent and Trademark Office and a dedicated presence at the SelectUSA Investment Summit. Designated Tech Hubs will be invited to join a Community of Practice to engage and provide access to other Tech Hubs across the country. 
These Benefits of Designation are only the beginning, EDA will further develop these benefits and expand regional opportunities in the coming months.  
View all the Benefits of Tech Hub Designation (PDF) 
Implementation Funding 
Designated Tech Hubs are now invited to apply for implementation funding through the Tech Hubs Phase 2 Notice of Funding Opportunity (PDF). EDA anticipates 5-10 Tech Hubs will each receive implementation grants in amounts ranging from $40-70 million. Applications are due February 29, 2024.  
While not all Tech Hubs will receive implementation funding from EDA in this round, our agency is committed to supporting all designated Tech Hubs in successfully realizing their vision. Designees will be able to apply to future Tech Hubs implementation funding opportunities, when available.  
We are confident that with the strong signal of designation, Tech Hubs will similarly see continued funding outside of EDA, as we have seen with our past programs. For EDA's Build Back Better Regional Challenge program, 38 of the 39 finalists that did not receive implementation funding continued to implement their strategies and leverage outside funding.  
Long-Term Growth 
Building successful regional growth requires a cohesive, collaborative strategy, focused on building off existing assets, resources, and potential to transform regions into globally competitive innovation centers. 
By bringing together federal and local government, research institutions, industry, workforce, labor, community organizations, and other partners, the Tech Hubs program will drive inclusive, long-term regional growth, boosting the American economy, and catalyzing the creation of good jobs for American workers. 
A Tech Hubs Designation is a strong endorsement of a region's plan to supercharge a critical technology ecosystem and become a global leader over the next decade. Thanks to the support of agencies and partners across the federal government helping in that effort, the future of American tech innovation, job creation, and national security has never been brighter.  
Tech Hubs: In the News 
The Washington Post: Biden names technology hubs for 32 states and Puerto Rico to help the industry and create jobs  
Bloomberg: Biden Administration Chooses 31 Tech Hubs Across US to Spur Investment  
NBC: WATCH: White House names 31 tech hubs across U.S.  
Forbes: Tech Hubs Program Will Boost Entrepreneurship & Innovation Across America (forbes.com) 
PBS News Hour: WATCH: Biden announces new tech hubs in 32 states during remarks on Bidenomics and economy 
Brookings: What the New Tech Hubs Designations Mean for Boosting Innovation Across the U.S.