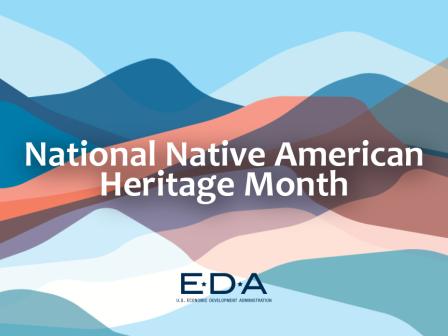 EDA Celebrates National Native American Heritage Month
During the month of November, the Economic Development Administration joins agencies throughout the Biden-Harris Administration in celebrating National Native American Heritage Month.
Over the last generation, increased exercise of Native American sovereignty has resulted in more positive economic growth for Native Americans and Alaskan Native communities than at any time in United States history. But the critically important work of ensuring equitable opportunity for America's indigenous communities continues.
In 2022, the Bureau of Labor Statistics published – for the first time ever – monthly unemployment data for Native Americans. That data showed levels of unemployment several percentiles higher than that of the non-Native population. It underscores the significant work that remains to be done to achieve national economic equity, a leading investment priority of EDA and a cornerstone of the Biden-Harris agenda.
EDA is committed to ensuring the promise of American prosperity is fully realized across Tribal nations through its investments in projects and programs designed to generate new economic opportunities for Indigenous communities in the United States.
"National Native American Heritage Month provides us an opportunity to reflect on the achievements and contributions of Indigenous communities to U.S. economic competitiveness and how those contributions are helping achieve our vision of a more equitable nation," said Alejandra Y. Castillo, Assistant Secretary of Commerce for Economic Development. "We will continue to support and empower Indigenous communities whose historic perspective, and modern innovations, are essential to the success of the American economy."
Highlights of recent EDA investments include:
Support to Tribes.

Through targeted, regional investments, EDA continues to support Tribal nations and Alaskan Native communities in achieving their own economic development priorities. Recently, for instance, EDA

committed $6 million to the

Yurok Economic Development Corporation in Klamath, California

to redevelop and modernize a fuel distribution center, providing new economic opportunity for members of the Yurok Tribe. Meanwhile,

a $1.6 million grant to the Tunica-Biloxi Tribe

of Louisiana is supporting design and construction of a new facility that will support business expansion in local industries including sewing fabrication and rare earth materials.

Keystone Programs Integration.

EDA is ensuring Tribal priorities are seamlessly integrated into its keystone economic development programs. The recent announcement of Tech Hubs Designees and Strategy Development Consortia, for example, included several with representation from Tribal nations or Tribal-serving organizations, among them the

Alaska Tech Strategy Development Consortium

, which is being led by the Cook Inlet Tribal Council; and the

Intermountain-West Nuclear Energy Tech Hub

, which is working with the Fort Hall and Wind River reservations on its objective of positioning Idaho and Wyoming as global leaders in advanced nuclear energy. In addition, EDA has made all Tribal lands and Alaskan Native villages eligible for its forthcoming Recompete Pilot Program.





These efforts build upon previous achievements EDA has spearheaded in Tribal 

economic development. Last year's Build Back Better Regional Challenge and Good 

Jobs Challenge each included significant Tribal involvement through coalitions like 

the

Mountain Plains Regional Native CDFI Coalition,

w

hich received a $45 million 

grant to grow the Native finance sector in the Midwest. The CDFI Coalition was one of

  

approximately 120 Indigenous-directed

economic development projects valued at nearly

$500 million supported by the Department of Commerce with American Rescue Plan funds.

Access to Opportunity.

EDA recently invested $824,956 to support Recast City and the Institute for Local Self-Reliance in an ambitious project focused on developing a cohort of Indigenous-led and Indigenous-serving Revolving Loan Fund (RLF) operators interested in adopting social impact criteria in their lending activities. This initiative will support RLFs in adopting policy and program objectives that improve their ability to reach Indigenous entrepreneurs.

Knowledge Sharing

. Through a 

recent grant to the New Growth Innovation Network

, EDA launched Equity Impact Investments, a program focusing on development and delivery of training and toolkits that disseminate knowledge of economic development best practices in serving underrepresented populations, including the Native American community.
Follow EDA on Twitter, Facebook, Instagram, and LinkedIn throughout the month for updates on EDA observances and activities in celebration of National Native American Heritage Month.