Build to Scale (B2S) Program - don't use this one
Overview

The Build to Scale Program builds regional economies through scalable startups through the Venture Challenge and Capital Challenge.
.
EDA's Office of Innovation and Entrepreneurship (OIE) leads the Build to Scale (B2S) Program which is authorized under Section 27 of the Stevenson-Wydler Technology Innovation Act of 1980 (15 U.S.C. § 3722). Under the Build to Scale Program, EDA manages a portfolio of grant competitions that further technology-based economic development initiatives that accelerate high quality job growth, create more economic opportunities, and support the future of the next generation of industry leading companies.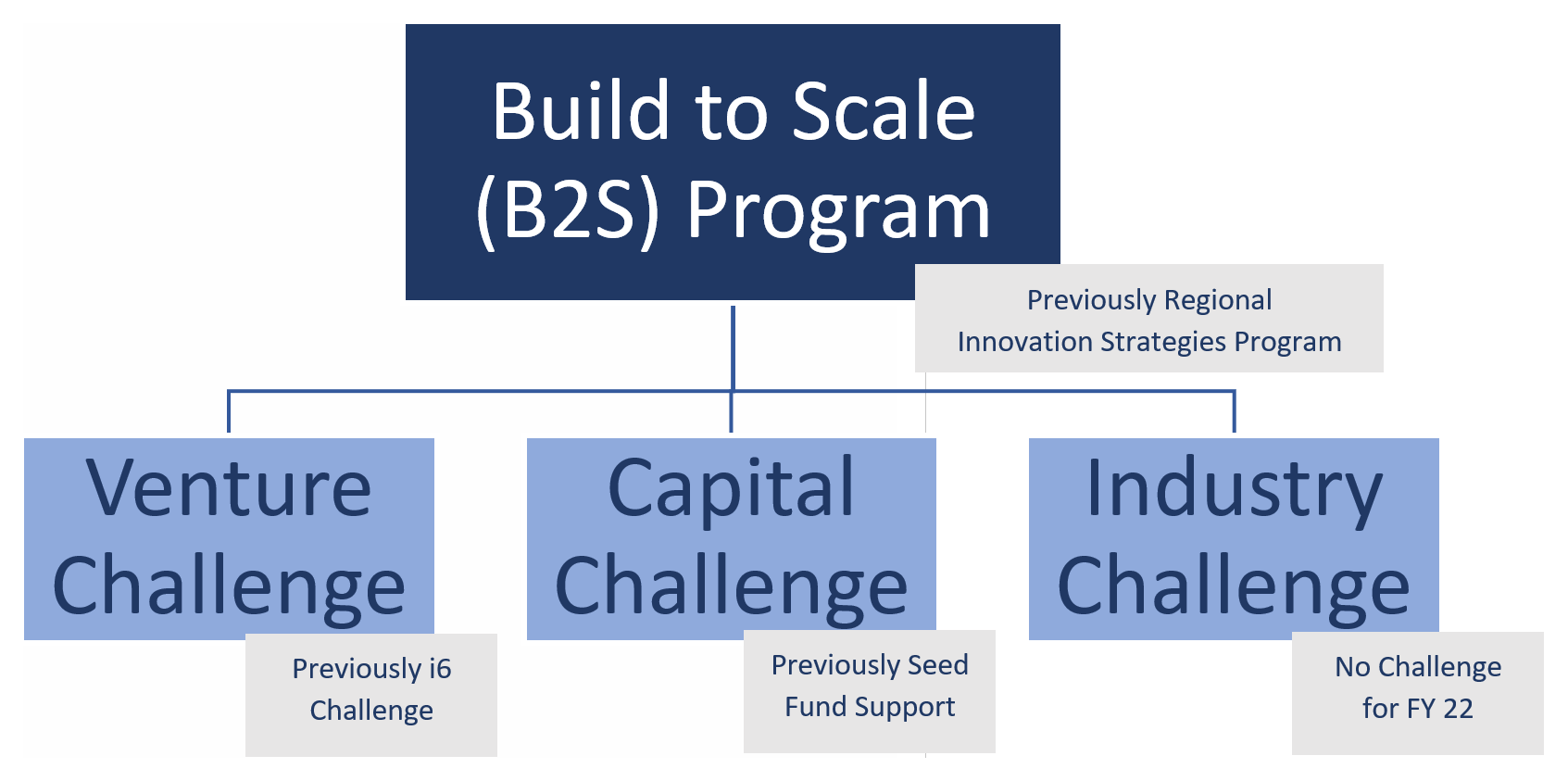 Resources
Funding Opportunities/Competitions
The FY21 Venture Challenge (formerly known as the "i6 Challenge") seeks to support entrepreneurship and accelerate company growth in communities, regions or combinations of regions. View the FY20 Venture Challenge grantees here.
The Venture Challenge awards grants to intermediary organizations like accelerators, universities, community colleges, and non-profits supporting new business ventures that are:
scalable by nature,
challenging the status quo of markets,
commercializing technologies, and;
furthering job creation
The FY21 Capital Challenge (formerly known as "Seed Fund Support") seeks to increase access to capital in communities where risk capital is in short supply. View the FY20 Capital Challenge grantees here.
The Capital Challenge provides operational support for:
the formation, launch, or scale of investment funds that seek to invest their capital in scalable startups
organizations with a goal to expand capital deployment within a community, region, or regional industry (i.e. angel networks or investor training programs)
EDA will not be hosting the Industry Challenge for the FY21 cycle. Check back for other opportunities in the future.
In 2020, Department of Energy partnered with EDA to provide $4 million in funding to pilot the Industry Challenge, which supports entrepreneurship and accelerate company growth within the Blue Economy for the FY20 cycle. View the FY20 Industry Challenge grantees here.
The FY20 Industry Challenge awarded grants to organizations who are:
Supporting commercialization of these technologies
Improving competitiveness of these startups
Increasing connectivity and collaboration between these stakeholders
Leveraging the blue economy to support innovation and job creation
Applicant Tutorials
Updates
To stay up-to-date on the latest innovation and entrepreneurship program news, including announcements of any future funding opportunities, please check OIE's Highlights page regularly and sign up for EDA's newsletter.