A Core Commitment: EDA Creates Ladders of Economic Opportunity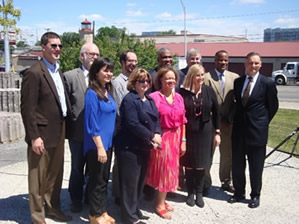 Assistant Secretary Jay Williams with local and federal representatives at Nashville Promise Zone announcement.
By Jay Williams is the Assistant Secretary of Commerce for Economic Development.
Since taking office in 2009, President Obama has pursued place-based policies to leverage investments by focusing resources in targeted locations and drawing on the compounding effect of well-coordinated action.
Presently, to best serve our communities, the Federal government is collaborating like never before to catalyze these local plans to drive job creation.
By pursuing placed-based policies and by breaking down Washington silos, we are best able to seed local strategies to spur regional economic growth.
Success Story: Virginia Innovation Partnership Spurs Commercialization of New Technologies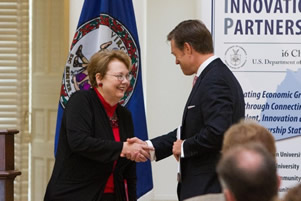 UVA President Teresa Sullivan and Deputy Assistant Secretary Matt Erskine at the 2012 announcement of VIP. Photo Credit:
UVAToday
In 2012, the University of Virginia was awarded an i6 Challenge grant and created the Virginia Innovation Partnership (VIP) to help fund and facilitate the best of Virginia's college and university researchers' ideas and technologies with the goal of commercialization.
The i6 Challenge is a part of the Regional Innovation Strategies (RIS) Program. EDA's Office of Innovation and Entrepreneurship (OIE) leads RIS to spur innovation capacity-building activities in regions across the nation.
Highlight: Administration visits Connecticut to Tout Progress Under the State's IMCP Designation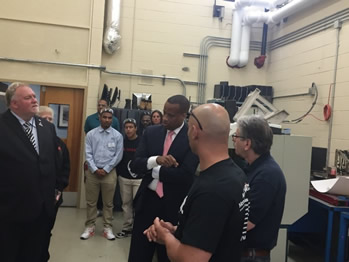 Assistant Secretary Jay Williams touring Asnuntuck Community College's Advanced Manufacturing Center.
For more than 100 years, the state of Connecticut has been a leader in the aerospace and shipbuilding industries. Building off of the state's strong reputation for manufacturing, in 2015, the Hartford region was designated an Investing in Manufacturing Communities Partnership (IMCP) community. On June 3, EDA Assistant Secretary Jay Williams and Jason Miller, White House Deputy Director of the National Economic Council visited the Connecticut Advanced Manufacturing Communities (AMC) Region to see the region's progress first-hand.
The visit began with a roundtable discussion and student-led tour of the Asnuntuck Community College's Advanced Manufacturing Center, the site of the AMC's pipeline and apprenticeship programs. Young men from the Boys & Girls Club of Hartford's Passport to Manhood Program joined Assistant Secretary Williams for the tour and roundtable discussion. This engagement was coordinated as a part of the White House's My Brother's Keeper (MBK) initiative, which Assistant Secretary Williams serves as an Ambassador.
Following the visit to Asnuntuck, the group toured Polamer Precision and Pratt & Whitney, two aerospace manufacturers that are a part of the AMC IMCP community. During the Pratt & Whitney tour, the group heard progress reports from community partners and creators of the AMC IMCP community.