Spotlight: A Core Commitment: EDA Creates Ladders of Economic Opportunity
June 2016 Newsletter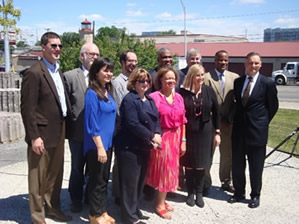 Assistant Secretary Jay Williams with local and federal representatives at Nashville Promise Zone announcement.
By Jay Williams is the Assistant Secretary of Commerce for Economic Development.
Since taking office in 2009, President Obama has pursued place-based policies to leverage investments by focusing resources in targeted locations and drawing on the compounding effect of well-coordinated action.
Presently, to best serve our communities, the Federal government is collaborating like never before to catalyze these local plans to drive job creation.
By pursuing placed-based policies and by breaking down Washington silos, we are best able to seed local strategies to spur regional economic growth.
In 2014, President Obama launched the Promise Zones Initiative to provide local leaders with proven tools to advance their vision for change in their communities and ensure a decent living for hard-working Americans. At EDA, creating ladders of opportunity for communities in need is a core commitment.
As an official Promise Zones partner, the U.S. Economic Development Administration (EDA) is committed to providing resources and expertise to Promise Zone communities. Yesterday, the administration announced nine new Promise Zones in the third and final round of Promise Zone designations.
In Nashville, Tennessee, I was pleased to join Ed Jennings, the southeast regional administrator for the U.S. Department of Housing and Urban Development, to announce the city as one of the newly designated Promise Zones. Read more about Promise Zones.