Success Story: Virginia Innovation Partnership Spurs Commercialization of New Technologies
June 2016 Newsletter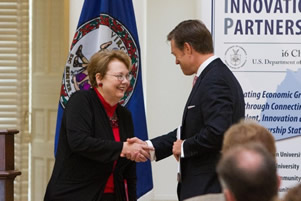 UVA President Teresa Sullivan and Deputy Assistant Secretary Matt Erskine at the 2012 announcement of VIP. Photo Credit:
UVAToday
In 2012, the University of Virginia was awarded an i6 Challenge grant and created the Virginia Innovation Partnership (VIP) to help fund and facilitate the best of Virginia's college and university researchers' ideas and technologies with the goal of commercialization.
The i6 Challenge is a part of the Regional Innovation Strategies (RIS) Program. EDA's Office of Innovation and Entrepreneurship (OIE) leads RIS to spur innovation capacity-building activities in regions across the nation.
From 2012-2014, VIP funded 32 proof-of-concept projects, resulting in 12 new startup companies from six Virginia universities.
To date, the 32 funded projects, including the 12 new companies, have received more than $6 million in funding from state and federal agencies, and industry and private investors to advance the projects.
Are you trying to grow entrepreneurship in your region? If so, you may be eligible for the 2016 RIS grant competition. The deadline to apply is June 24.