Highlight: Administration visits Connecticut to Tout Progress Under the State's IMCP Designation
June 2016 Newsletter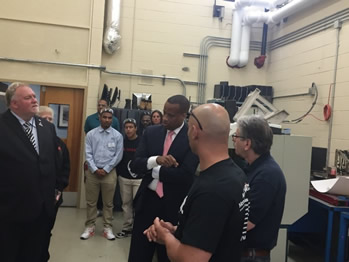 Assistant Secretary Jay Williams touring Asnuntuck Community College's Advanced Manufacturing Center.
For more than 100 years, the state of Connecticut has been a leader in the aerospace and shipbuilding industries. Building off of the state's strong reputation for manufacturing, in 2015, the Hartford region was designated an Investing in Manufacturing Communities Partnership (IMCP) community. On June 3, EDA Assistant Secretary Jay Williams and Jason Miller, White House Deputy Director of the National Economic Council visited the Connecticut Advanced Manufacturing Communities (AMC) Region to see the region's progress first-hand.
The visit began with a roundtable discussion and student-led tour of the Asnuntuck Community College's Advanced Manufacturing Center, the site of the AMC's pipeline and apprenticeship programs. Young men from the Boys & Girls Club of Hartford's Passport to Manhood Program joined Assistant Secretary Williams for the tour and roundtable discussion. This engagement was coordinated as a part of the White House's My Brother's Keeper (MBK) initiative, which Assistant Secretary Williams serves as an Ambassador.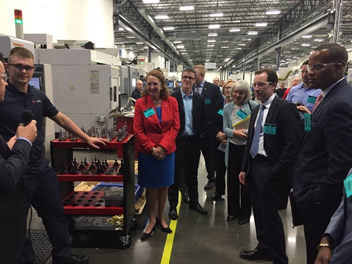 Assistant Secretary Jay Williams and Jason Miller of the White House touring Polamer Precision.
Following the visit to Asnuntuck, the group toured Polamer Precision and Pratt & Whitney, two aerospace manufacturers that are a part of the AMC IMCP community. During the Pratt & Whitney tour, the group heard progress reports from community partners and creators of the AMC IMCP community.
To close out the Connecticut visit, Assistant Secretary Williams and Deputy Director Miller and the IMCP consortium visited another AMC IMCP site, General Dynamics Electric Boat, a shipbuilding manufacturing facility. At this site, the group heard firsthand about the importance of shipbuilding and the defense manufacturing industry in Connecticut.
The AMC IMCP community has made impressive progress thus far, including the creation of a $30 million Manufacturing Innovation Fund to support finance technology upgrades and workforce training for small cutting-edge companies; the development of the nation's first Green Bank to keep energy costs and carbon emissions low for energy-intensive manufacturing; and efforts to upgrade a network of Advanced Manufacturing Centers in local community colleges to ensure that the region's next generation of manufacturing workers are prepared to fill the jobs of the future. EDA looks forward to this IMCP community's continued growth and progress in the Hartford region.