Accelerate R2 Network Challenge
Our Approach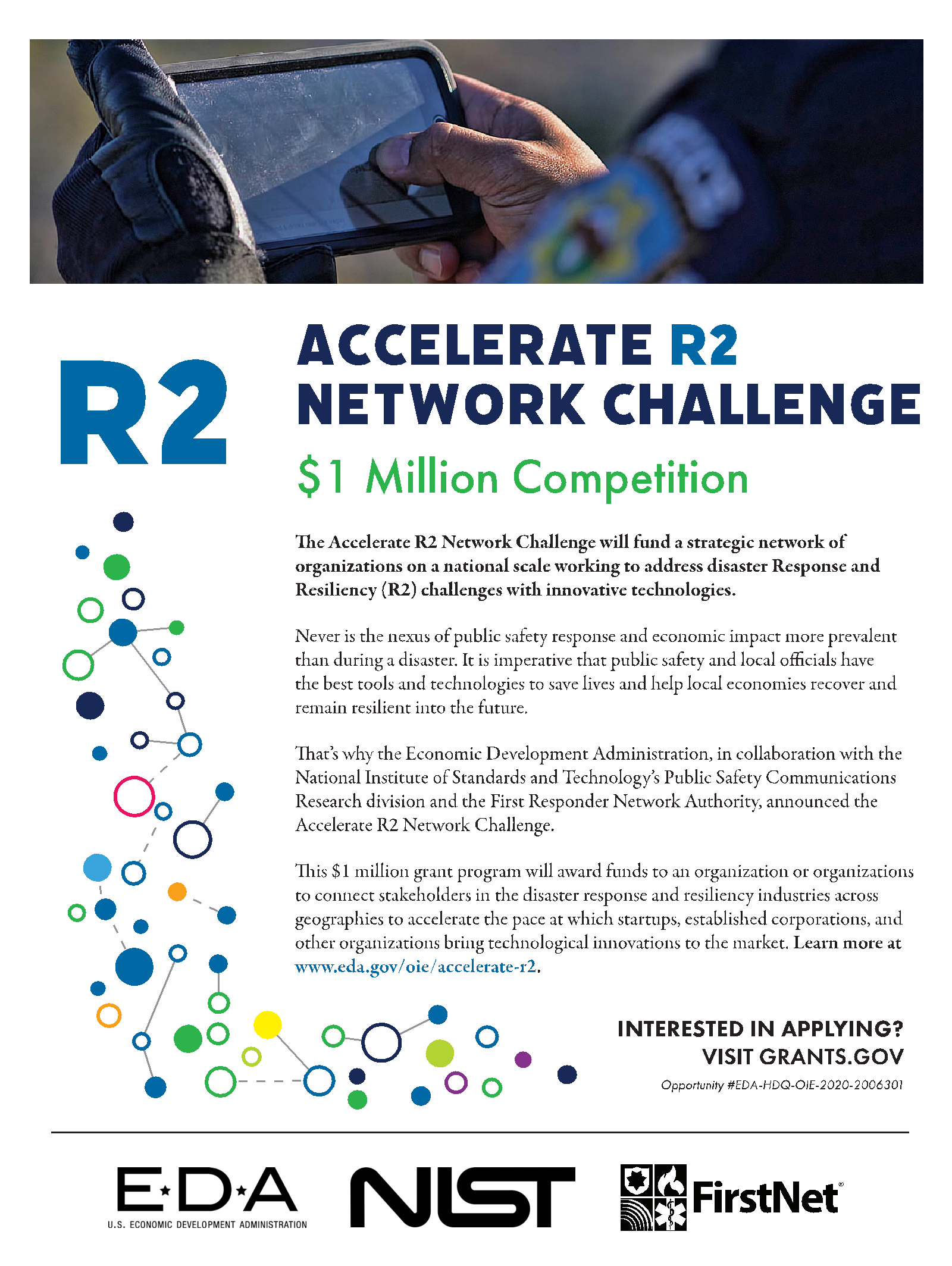 Accelerate R2 Network Challenge (PDF)
(Click to open)
EDA, in collaboration with the National Institute of Standards and Technology (NIST) and the First Responder Network Authority (FirstNet), sought applications from eligible parties to create a nationwide network or networks of organizations working to address the nation's most pressing disaster response and resiliency (R2) challenges with innovative technologies.
The Accelerate R2 Network Challenge was designed to connect stakeholders engaged in:
Response innovation – innovation in the communications, technology, and equipment first responders use when responding to disasters and events
Resiliency innovation – finding new ways to build, protect, and connect networks and infrastructure to help communities recover and build readiness and resilience in the face of future disasters
On July 1, 2020, after the nationwide call for proposals, EDA, FirstNet, and NIST selected a public-private partnership to establish and operate the R2 Network, consisting of the following entrepreneurs, early stage investors, local government and public safety stakeholders:
RapidSOS,
ResponderCorp,
Orleans Parish Communication District, and
the Western Fire Chiefs Association.
Together, along with the State of New Hampshire serving as a key strategic partner and collaborator, these partners will form a national, free-to-use, and self-sustaining platform that brings stakeholders together for a common goal: to support innovators and agencies in empowering first responders with the tools and technologies they need to stay safe and protect our communities.
To learn more about the R2 Network and to sign up for updates, please visit: learn.rapidsos.com/r2-network.
Applicant Resources
Updates
To stay up-to-date on the latest innovation and entrepreneurship program news, including announcements of any future funding opportunities, please check OIE's Highlights page regularly and sign up for EDA's newsletter.