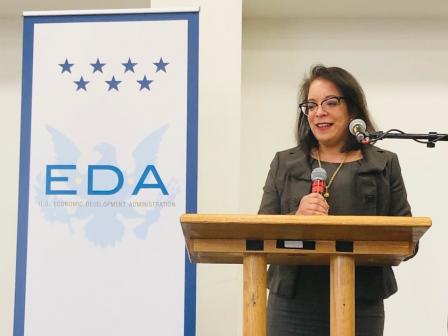 EDA Conducts Tribal Economic Development Workshop at NADO 2023
In April, economic development experts from across the country gathered in Denver, Colorado, for the 2023 National Association of Development Organizations (NADO) economic summit. The three-day event included presentations from Governor Jared Polis and Assistant Secretary of Commerce for Economic Development Alejandra Castillo. It offered attendees a series of specific workshops, including one for Indigenous communities.

Caleb Seeling, Economic Development Specialist in EDA's Denver Region, hosted the session entitled "Strengthening Indigenous Communities." Panelists included consultants, legal advisors, Native CDFI coalition members and others committed to Tribal development. The workshop addressed how Tribal nations across EDA's ten-state Denver region are creating new opportunities to build and enhance their economies.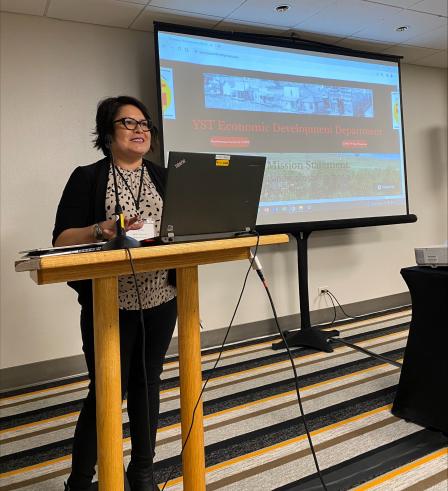 The session began with an overview of the recently announced Indigenous Communities Community of Practice (CoP), operated by the Urban Institute in partnership with the National American Indian Housing Council and Big Water Consulting with support from EDA. It provides training and technical assistance to help build capacity for project planning and implementation. It also helps to facilitate Tribal access to EDA's economic development funding programs. It is one of eight EDA-funded CoPs nationwide.
"The conference was a good networking opportunity to learn and share best practices with other Tribes," said David Tam, CEO at Iowa Tribe of Kansas and Nebraska. "Knowing that EDA is committed to supporting Tribal communities is important as we face special challenges on many different levels. It gives me hope to see how willing people are to help one another from the perspective of economic development."
Presenters also provided workshop participants with models and strategies for building sustainable Tribal-owned businesses, emphasizing the importance of reliable and accurate data when applying for federal funding. They also outlined best practices for assembling a strong Community Economic Development Strategy (CEDS), a regionally-owned planning process designed to build capacity and guide regional economic prosperity.
"The workshop drove home how important it is for Tribes to maintain their sovereignty by means of ownership of their data and holding on to an economic development vision that meets the unique needs of our communities," said Bernadette Cuthair, Planning Director for the Ute Mountain Ute Tribe. "There was a wealth of practical information, including the unique aspect of one-on-one networking with cities, counties, agencies, native-owned businesses, and western-region Tribes to learn of real-time, unique economic development models."
Other attendees welcomed the opportunity to meet with EDA officials, who came to re-iterate the bureau's commitment to sustainable, long-term economic development in Indian country.
"I appreciated the opportunity to talk directly with Governor Polis and Assistant Secretary Castillo on Tribal issues and how rural communities are often overlooked when considering major economic development opportunities such as Tech and Innovation Hubs," said Beverly Santicola, President of Santicola & Company. "I loved the opportunity to meet other EDA grantees and to participate in the Strengthening Indigenous Communities Workshop."
EDA will continue to work with Tribal representatives to provide practical economic development strategies, both in person and through virtual events. For more information on resources available to Tribes and Tribal governments, please visit eda.gov/Tribal.