Spotlight: NACIE Finishing Strong through the Fourth Quarter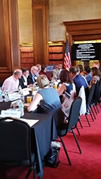 NACIE members meet at the Department of Commerce.
On June 16th and 17th, EDA's Office of Innovation and Entrepreneurship (OIE) hosted the National Advisory Council on Innovation and Entrepreneurship (NACIE) for their seventh and penultimate quarterly meeting.
On the 16th, NACIE members convened in the Department of Commerce library where Assistant Secretary Jay Williams was excited to update them on many of the ways EDA and other bureaus have already leveraged their recommendations to affect policy and programs while also encouraging Council members to finish strong through the "fourth quarter" of their term.
To do just that, this driven Council is working to deliver a new proposal that will provide insights and strategies for government to better connect and scale place-based solutions that support innovation and entrepreneurship in communities outside Silicon Valley, or in what NACIE member Steve Case refers to as the "Rise of the Rest" cities.
Success Story: Digital Sandbox KC Advances Innovation, Entrepreneurship and Job Creation in Kansas City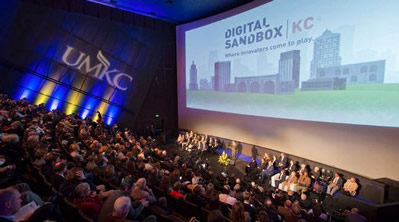 Kansas City-based incubator Digital Sandbox.
In 2012, EDA awarded Digital Sandbox KC a $1 million i6 Challenge grant to create a new process for commercialization in Kansas City by clustering digital innovation in a central hub and providing the needed technology infrastructure. In 2015, EDA invested an additional $500,000 in i6 funds to Digital Sandbox KC to help them continue support for early-stage proof-of-concept projects and to help them expand to create a community-wide network of product development and testing resources.
Digital Sandbox is a perfect example of how the U.S. Department of Commerce and the entire Obama administration are supporting entrepreneurial ecosystems across the country through public-private partnerships. EDA is proud that our i6 investments to support development of Digital Sandbox KC have payed-off handsomely for the Kansas City region.
Since its launch in 2013, Digital Sandboxs' proof-of-concept program has worked with more than 300 entrepreneurs and early-stage companies across the metro area. To date, Digital Sandbox has raised roughly $18 million in private funding to promote new ideas, business opportunities, and job growth in the region.
Success Story: The Florida Innovation Hub Expands with Help of $8.2 million EDA Grant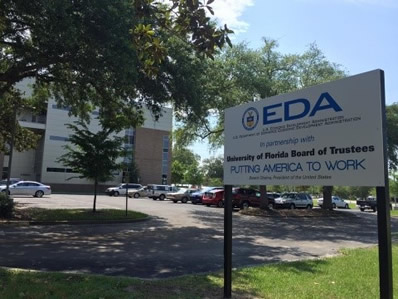 EDA Signage Heralds the Expansion of the Florida Innovation Hub.
The Florida Innovation Hub will double in size after receiving an $8.2 million EDA grant award. The grant will create a technology business incubator at the University of Florida in Gainesville, as part of Phase II of the development of the Florida Innovation Hub. According to grantee estimates, the incubator will have the capacity to serve up to 45 companies of varying size. 
EDA's investment will construct a new, state-of-the-art, LEED certified, multilevel technology business incubator facility. The facility will provide space to companies that require specialized wet and dry laboratories that are not yet available in the commercial market. A portion of the space will be devoted to an Entrepreneurial Woman's Center to provide ongoing assistance to the population that, according to the grantee, is currently underrepresented in the entrepreneurial ecosystem. The grantee expects this project to continue the success of Phase I of the Innovation Hub, which in its first three years assisted 60 companies resulting in 760 jobs and $50 million in private investment.
Read how this investment will continue the success of Phase I.
Highlights: Assistant Secretary Jay Williams Affirms Commitment to the U.S. Virgin Islands During Visit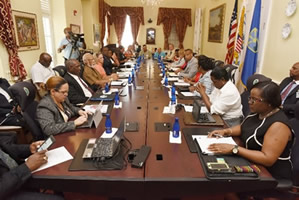 USVI Business roundtable discussion.
On June 27, Assistant Secretary Jay Williams visited the U.S. Virgin Islands where he met with various stakeholders and discussed the island's economic resiliency in the wake of the loss of more than 2000 jobs following the closure of the Hovensa petroleum refinery.
During the visit, Assistant Secretary Williams also highlighted EDA's partnership with FreshMinistries by participating in a groundbreaking ceremony for a new Agri-Business Economic Development Center.
Highlights: Microgrids - Powering and Preparing Alaskan Villages for Economic Growth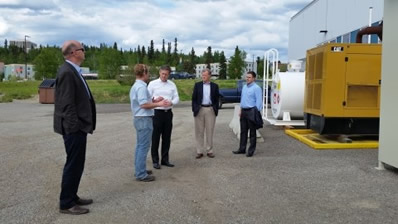 Deputy Assistant Secretary Matt Erskine touring the Alaska Center for Energy and Power (ACEP).
In Alaska, the cost of energy carries a hefty price tag, both economically and environmentally. For isolated, rural Alaskan villages, the economic disadvantage doubles. As a result of this challenge, Alaska has identified an innovative solution: Microgrids.
Read Deputy Assistant Secretary Erskine's blog on his visit to Alaska to learn about microgrids.