Blog Post
Call to Action: Investing in Our Youth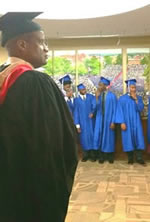 Assistant Secretary Jay Williams meeting the 2016 graduates of Washington, DC's Benjamin Banneker Academic High School
No child should be limited by the circumstances into which they were born. No child should feel like they need to "beat the odds" to make it in this country.
I grew up in a working class family in Youngstown, Ohio, a community partly defined by economic distress. But, with the support of not only my family, but my church and community, I did not feel limited by my circumstances. I was afforded opportunities by people who reached back and it was those opportunities that led me to where I am today.
Unfortunately, not all my peers were afforded that support growing up. For decades, opportunity has lagged for boys and young men of color in our country and this is why in 2014, President Obama launched the My Brother's Keeper (MBK) initiative.
Since its founding, MBK has brought together business, community, and civic leaders, organizations, and communities around the country to bridge opportunity gaps and help improve life outcomes for boys and young men of color.
The U.S. Department of Commerce is a partner in this initiative and I am honored to be the agency ambassador. As an MBK ambassador, I have made a commitment to encourage and support this important call to action in communities across the country.
On June 13, I had the privilege of delivering the commencement address to the class of 2016 at Benjamin Banneker Academic High School in Washington, DC. What an exceptional student body!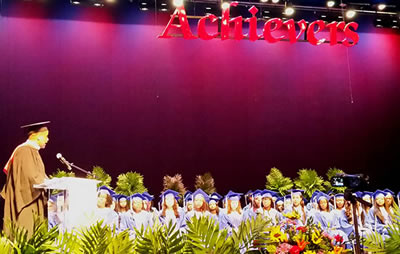 Assistant Secretary Jay Williams delivering the commencement address to the 2016 graduates of Washington, DC's Benjamin Banneker Academic High School
Banneker has a reputation of academic excellence in the District, with its international baccalaureate courses and 100 percent college acceptance rate. Many of these students have faced significant challenges in their lives, but with their personal commitments to excellence and the support of dedicated staff and community members, they have excelled year after year.
It was my honor to deliver the commencement address to these students and applaud their outstanding work and the work of the Banneker community in helping these young people achieve their full potential.
I was truly inspired by the Banneker community. It is a small school community that sets high expectations and helps students reach them in the classroom and in the community. At Banneker, the doors are open to outside support and they have hosted numerous leaders to encourage their students.
The Banneker community is one that MBK works to replicate in communities throughout the country. Over the past two years, MBK has seen great progress (PDF) in expanding opportunity and creating pathways to success for young people. It will take all of us to continue the momentum for years to come.
There is a very large "help needed" sign on the front door of our society for youth investment. At the Department of Commerce, we understand that an investment in our youth is also an investment in our country's economic future and collective prosperity. We hope you will join us in answering the call.