Spotlight: NACIE Finishing Strong through the Fourth Quarter
July 2016 Newsletter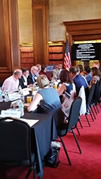 NACIE members meet at the Department of Commerce.

On June 16th and 17th, EDA's Office of Innovation and Entrepreneurship (OIE) hosted the National Advisory Council on Innovation and Entrepreneurship (NACIE) for their seventh and penultimate quarterly meeting.

On the 16th, NACIE members convened in the Department of Commerce library where Assistant Secretary Jay Williams was excited to update them on many of the ways EDA and other bureaus have already leveraged their recommendations to affect policy and programs while also encouraging Council members to finish strong through the "fourth quarter" of their term.

To do just that, this driven Council is working to deliver a new proposal that will provide insights and strategies for government to better connect and scale place-based solutions that support innovation and entrepreneurship in communities outside Silicon Valley, or in what NACIE member Steve Case refers to as the "Rise of the Rest" cities.

This proposal will build upon lessons learned from the NACIE spring meeting in Nashville, and upcoming visits to Austin and Chicago in July and September, where members will directly engage with local leaders to learn how they are growing their unique ecosystems through the sharing of ideas, insights, and resources.

Additionally, council members Laura Powers and Eric Severson updated the Council on their findings from a roundtable event in San Francisco, where Secretary Pritzker led a discussion with community and private sector leaders to identify strategies to improve talent development and placement in the tech sector. The event helped the Council and OIE better understand potential policy opportunities to support technology training practices like boot camps and online training while also helping participants gain new insights into these programs.

The meeting wrapped up on the 17th at the historic Eisenhower Executive Office Building with members discussing strategies to build on their momentum and ensure a clear plan to transition to the next Council, NACIE 3.0, in October.