Success Story: Digital Sandbox KC Advances Innovation, Entrepreneurship and Job Creation in Kansas City
July 2016 Newsletter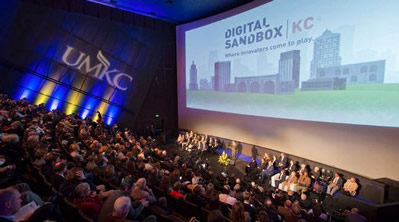 Kansas City-based incubator Digital Sandbox.
In 2012, EDA awarded Digital Sandbox KC a $1 million i6 Challenge grant to create a new process for commercialization in Kansas City by clustering digital innovation in a central hub and providing the needed technology infrastructure. In 2015, EDA invested an additional $500,000 in i6 funds to Digital Sandbox KC to help them continue support for early-stage proof-of-concept projects and to help them expand to create a community-wide network of product development and testing resources.
Digital Sandbox is a perfect example of how the U.S. Department of Commerce and the entire Obama administration are supporting entrepreneurial ecosystems across the country through public-private partnerships. EDA is proud that our i6 investments to support development of Digital Sandbox KC have payed-off handsomely for the Kansas City region.
Since its launch in 2013, Digital Sandbox's proof-of-concept program has worked with more than 300 entrepreneurs and early-stage companies across the metro area. To date, Digital Sandbox has raised roughly $18 million in private funding to promote new ideas, business opportunities, and job growth in the region.
In addition, the organization has funded 73 projects, helped launch 27 new businesses, enabled the growth of 247 jobs and spurred $22.7 million in follow-on funding.
Critically, in addition to EDA's investments, the Sandbox is supported by local universities, private companies and KCSourceLink, which is leading efforts to make Kansas City America's most entrepreneurial city. More information on Digital Sandbox, visit their website.