Highlights: Assistant Secretary Jay Williams Affirms Commitment to the U.S. Virgin Islands During Visit
July 2016 Newsletter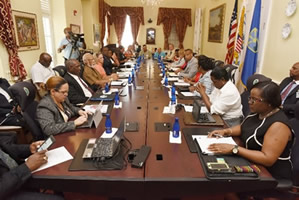 USVI Business roundtable discussion.
On June 27, Assistant Secretary Jay Williams visited the U.S. Virgin Islands where he met with various stakeholders and discussed the island's economic resiliency in the wake of the loss of more than 2000 jobs following the closure of the Hovensa petroleum refinery.
During the visit, Assistant Secretary Williams also highlighted EDA's partnership with FreshMinistries by participating in a groundbreaking ceremony for a new Agri-Business Economic Development Center.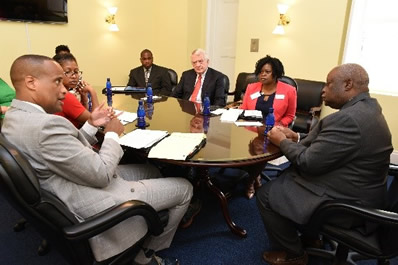 Assistant Secretary Williams meets with USVI Governor Kenneth Mapp.
The new Center will help the islands recover from the Hovensa closure by incubating new agri-businesses and providing critical workforce training that will serve as a catalyst for the revitalization of the agriculture industry.
FreshMinistries anticipates that a minimum of 10 new agri-related businesses will be based within the Center, creating a minimum of 46 new jobs and training at least 75 unemployed or underemployed people. Read more about the Assistant Secretary's trip here.