EDA Celebrates National Small Business Week
This week, we celebrate National Small Business Week, first started in 1963 by President John F. Kennedy. Administered by our Federal partner the U.S. Small Business Administration, this tradition recognizes the critical contributions of America's small business owners while also promoting and encouraging new entrepreneurship opportunities and resources.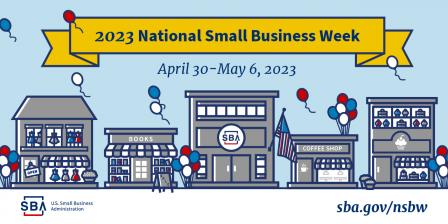 At the Economic Development Administration (EDA), I am proud to oversee funding programs that invest in America and boost the conditions for small business growth. These programs also place equity at the core of our investment strategy, ensuring greater access to capital, resources, knowledge, and opportunity are available to underserved and underrepresented communities and populations.
Through EDA's Economic Adjustment Assistance program, one of our oldest and most successful initiatives, our agency administers the Revolving Loan Fund (RLF) program. Through this program, EDA provides the capitalization to lending programs that services businesses that cannot otherwise obtain traditional bank financing, enabling them to grow and develop, while also allowing these enterprises to creating new jobs in their regions.
Since becoming Assistant Secretary of Commerce for Economic Development nearly two years ago, I've been fortunate enough to meet with many of these business owners directly. It's rewarding and inspiring to hear how EDA has helped spur business growth and job creation in their communities. Just some of the many examples of those successes include:
In Florida, the RLF program provided

AMWAT Moving Warehousing Storage

with a $450,000 loan. It allowed Gloria Pugh, CEO, to expand her local, family-owned moving company through the purchase of three new company vehicles. Today, they have moved beyond the Sunshine State, providing moving services for customers coast to coast.

In Michigan, an RLF award enabled Detroit-based Marlene Brooks, owner of the

Dymond Designs Beauty School

, to keep her doors open, following the economic upheaval of the coronavirus pandemic. Today, more than 80 aspiring beauticians are enrolled in her programs, preparing them for good-paying, quality jobs in their community.

In Delaware, the RLF program helped a local restauranteur navigate the pandemic as well, enabling the

Faire Market and Café

to continue serving its customers in the Wilmington area. The veteran-owned business was forced to close its doors for three months following the one-two punch of both the pandemic and local vandalism.
These stories help to not only convey but demonstrate how EDA's regional work lays the conditions for small business growth in America. We will continue to work with our grantees to provide critical access to capital that is critical to their success, and essential to their ongoing efforts to provide equitable economic development in their communities.
Our commitment to catalyzing the best conditions for small businesses to thrive continues in our upcoming Tech Hubs program, launching this Summer. With this new investment and program, we are excited for a new generation of opportunity for small and diverse businesses to power the explosive growth coming to America, as we invest in technological innovations that will create so many new, good jobs here in the U.S. The industries and communities in a Tech Hubs region will require local, small business networks and supply chains to feed, house, educate, and support the anticipated growth.
As President Biden, in his proclamation declaring April 30-May 6, 2023 as National Small Business Week, stated: "This week, we celebrate the backbone of our economy and the glue of our communities:  our small businesses, which help make our Nation strong."  EDA is proud to be a part of the coalition that supports these businesses and the regions they thrive in, to grow.
For more information on our funding opportunities and ways to encourage innovation and entrepreneurship where you live, please visit eda.gov.