South Texas Development Council Strategizes to Increase Workforce Development
Starr Country is historically and economically distress rural community. According to the US Census Bureau, 51.5% of the total population of individuals 25 years of age or older has less than a high school diploma. An educated and skilled workforce is critical towards local economic prosperity. Educated individuals are needed to support local businesses and to help attract new industries within the community.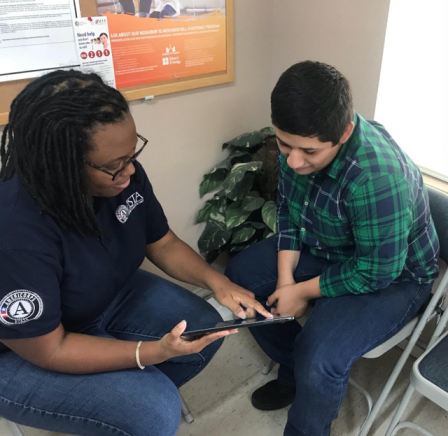 To address regional educational attainment and workforce development capacity needs, South Texas Development Council (STDC) and the U.S Economic Development (EDA) partnered to assign an EDA VISTA Corps member to the region. The VISTA member's goal is to meet and work with community members to gather in-depth information to help problem-solve, recommend economic development activities, and to identify potential development resources to gather in-depth information about local economic development needs.
Angela Bonner, STDC's first-term AmeriCorps VISTA, has been charged with the planning phase of the three-year VISTA project. Her term consists of extensive data collection, data analysis, and development of a county-level strategic plan with a special emphasis on educational attainment.
Bonner has gathered quantitative and qualitative data through interviewing educational institutions, local businesses, city officials, and community stakeholders to gain community insight. Bonner also developed and conducted surveys with community members to identify social and economic barriers prohibiting educational attainment thus limiting workforce development. Her efforts have proven effective as community members and stakeholders are actively engaged in the data collection process and eager to participate in further planning.
With the information collected, Angela will compile statistical and interview data into a comprehensive report outlining the findings of the study and present to community stakeholders for feedback and future planning.
Biography
A Bessemer, Alabama native, Angela Bonner, currently serves as an Economic Development VISTA with South Texas Development Council (STDC). Prior to joining AmeriCorps, Angela worked in the banking industry where she aided countless families through extensive financial analysis, education, and guidance. In her role as a financial counselor, Angela discovered a strong passion to serve others and desired to do more. Angela received a Bachelor's of Science in Business Administration from the University of Alabama-Tuscaloosa and currently pursuing a Master of Business Administration at the University of Incarnate Word.